The Healthful Hedonist: Comfort Food for the 21st Century
Coconut Almond Granola
Thursday, March 4, 2010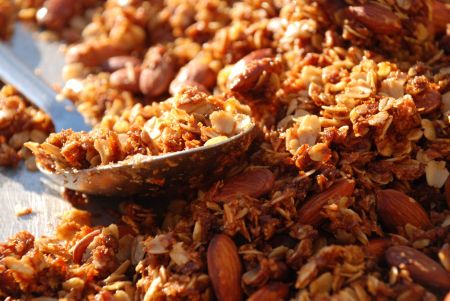 Sustainable. Simple. Savory.


Wednesdays on Mama Cooks.


I recently tried and failed to make chewy granola bars. Still craving something healthy and sweet, I came up with this instead. It got a bunch of thumbs up here, so I hope it will for you too.



3 cups old-fashioned oats
1 cup shredded unsweetened coconut
1 cup almonds – whole, slivered, sliced, whatever you have
¼ cup mild olive oil plus a couple more tablespoons for drizzling on top
3-4 tablespoons honey
3-4 tablespoons brown sugar
couple dashes of cinnamon
teaspoon of vanilla

Mix everything together well, spread out evenly onto oiled cookie sheet and drizzle with a little more olive oil. Bake at 350 degrees for 30 minutes or so. Stir a few times. Remove from oven when it's golden brown. Once it cools, it becomes crunchy, toasty, delicious. Even my non-granola eater -- disappointed that the amazing smell coming from the kitchen wasn't cake -- had to have a bowl.