The Healthful Hedonist: Comfort Food for the 21st Century
Roasted Eggplant
Wednesday, January 6, 2010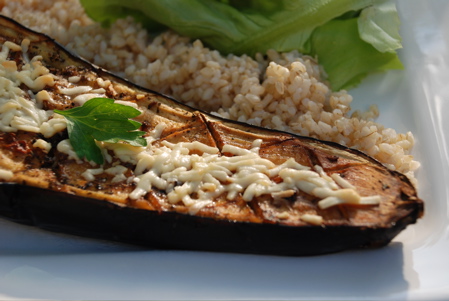 Simple. Sustainable. Savory.
Wednesdays on Mama Cooks.
This summer I visited Apple Street Farm, owned and run by superchef (and farmer) Frank McClelland of
L'Espalier
and
Sel de la Terre
. As I stood off to the side watching, notebook in hand, the chef withstood a vicious assault by a swarm of mosquitoes while harvesting a basket of gorgeous, fat eggplants. He then headed into his kitchen and casually whipped up ratatouille-stuffed baby vegetables with pesto-herb soufflé and saffron sauce.
I got to taste it. I was glad to be me.
When I said I wanted that much flavor with about one-tenth of the work (and none of the mosquitoes), the chef took pity on me and said yes, I could serve this eggplant side dish as an entrée. It may not come with a saffron sauce or a soufflé cooked in a blue eggshell, but it is rich, savory and packed with umami. I think of it as the fanciest (and healthiest) eggplant parm on the planet.
Thanks, Chef!
Roasted Eggplant
From
Wine Mondays
by Frank McClelland and Christie Matheson
3 medium-size eggplants, sliced in half lengthwise (I used two larger eggplants instead)
1 tablespoon salt
3 garlic cloves, minced
½ teaspoon dried basil
½ teaspoon dried oregano
½ teaspoon freshly ground black pepper
¼ cup olive oil
2 tablespoons balsamic vinegar
½ teaspoon Worcestershire sauce
3 tablespoons freshly grated Parmesan cheese
1.
Arrange the eggplants skin side down on a sheet pan. Slice and score the flesh of each section. Evenly sprinkle the salt over the cut portions of the eggplant. Let stand for 30 to 45 minutes at room temperature.
2.
Preheat the oven to 400 degrees F.
3.
Combine the garlic, basil, oregano, pepper, olive oil, vinegar, and Worcestershire sauce in a small bowl and evenly distribute over the cut portions of the eggplant. Let stand for 5 minutes. Roast for 30 minutes, or until golden brown. Remove from the oven and evenly distribute the cheese over the top of the eggplant. Bake for 7 more minutes.
Serve with brown rice and salad.