The Healthful Hedonist: Comfort Food for the 21st Century
Fried Calamari
Wednesday, December 23, 2009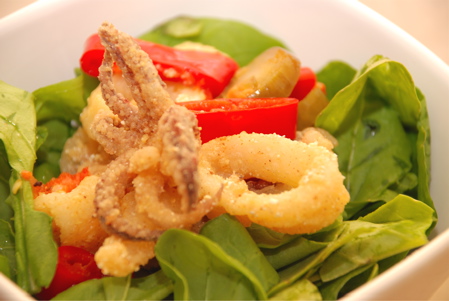 Simple. Savory. Sustainable.

Wednesdays on Mama Cooks.

Happy, Merry, everyone.

Serves four


About 1 pound fresh calamari
Equal parts flour and cornmeal totaling 1 cup mixed with salt and Bay seasoning
Oil for frying

Cut the calamari into strips, dredge in the flour/cornmeal mixture, and fry in oil heated to 350 degrees for about a minute and a half. Serve over dressed greens with a lemon wedge or hot pickled peppers.

Really, does it get any easier?