The Healthful Hedonist: Comfort Food for the 21st Century
Sweet and Salty Glazed Pork
Wednesday, June 9, 2010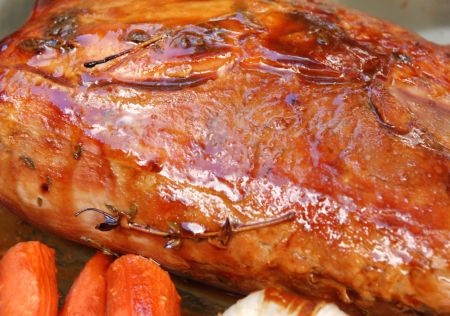 Simple. Sustainable. Savory.
Wednesdays on Mama Cooks.
For all of my Healthful Hedonist recipes, go
here
.
Ever had one of those months where two family members got fevers, there were social problems at school, someone needed an emergency root canal and then, on top of all that (and more), a colonoscopy?
That's so weird, me too.
So this recipe is from this week's "all white flour and meat colono-prep diet," which will be ending on Friday June 11 at 12 p.m. I don't recommend it. Two of us are sorry to be eating all this stuff, in more ways than one. But two others - the under-18 set - couldn't be happier. Someday, they'll get theirs.
Sweet and Salty Just like Life Pork Loin
2 lb. boneless pork loin
1/4 cup orange juice
1/4 cup tamari
1/4 cup water
thyme
Marinate the pork for as long as you can. I had about 15 minutes to work with. If you want, double the recipe so it covers more of the meat. Cook at 400 degrees for about an hour, or until done (160 degrees by a thermometer).