The Healthful Hedonist: Comfort Food for the 21st Century
Barramundi with Italianesque Topping
Wednesday, January 27, 2010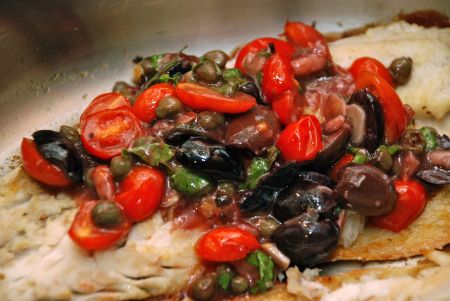 Savory. Simple. Sustainable.
Wednesdays on Mama Cooks.
NB: I wrote a 2000-word "book" (in the parlance of this cool new website) called 10 Ways to Get Your Family to Eat Better. It costs $1.49 to download. If you buy it, please (!) don't share it. If you're interested, you can check it out here.
Now, back to our regularly scheduled recipe:
While writing
my book
, I went in search of fish that was sustainable, clean and full of omega-3 fatty acids. Impossible, right? Wrong. I found everything I was looking for at a fish farm called
Australis
, right here in western Mass. It gave me hope.
Anyway, my husband recently came home bearing a healthy filet of fresh Australis barramundi. If you want to see whether you can find any near you, go
here
. (If you can't get your hands on barramundi, other good options for this dish would be arctic char, wild salmon or tilapia.)
Next, I looked in the fridge and came up with this quick, easy sauce. After he cleaned his plate, my teenage son asked if there was any more fish left, then he added brusquely that we should be eating like this every night.
Total score.
I told him that I couldn't agree more. Now, I asked, who's doing the dishes? (He and his sister did. Double and triple score.)
Italian-style Barramundi
Serves four
Pan-fry or roast your fish. While it's cooking, make the sauce:
Olive oil, tablespoon or two
Garlic, 3- 6 cloves sliced thinly
Cherry tomatoes, about a dozen, halved
Capers, a tablespoon or two
Kalamata olives, a dozen, pitted and sliced
Couple slices of lemon
Wine – white if you have it, or red, or just water
Flour, a tablespoon or two
Parsley, chopped
Saute the garlic slices in hot oil until lightly brown. Throw in the tomatoes, capers and olives. Add some water, oil and/or wine to give it some liquid, toss a tablespoon of flour in there and whisk like you've never whisked before (or until there are no more lumps). Cook it for a couple minutes so the flour loses that raw floury taste. Throw in some parsley. Add more wine, or water, or a song if you like; add pepper and salt if it needs it (it should already be pretty salty though), then squeeze in the lemon. Pour lusciously over a piece of sustainable fish, fresh bararmundi if at all possible just because it's so good. Smile modestly at the compliments.