The Healthful Hedonist: Comfort Food for the 21st Century
Fall Salad
Wednesday, December 2, 2009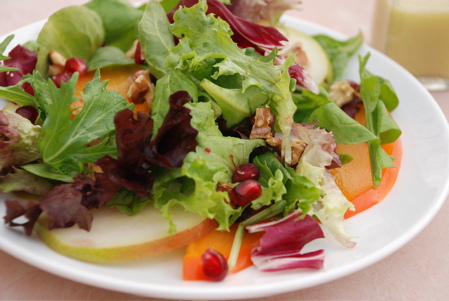 Simple. Savory. Sustainable.
Wednesdays on Mama Cooks.
I don't know about you, but in my little universe there's been too much around-the-clock food prep, too much flu, and too much drab winter dreariness even though technically it's still fall. If you can relate - if you, too, are feeling gray around the gills - I recommend this colorful salad generously sent to me by Annie Somerville, renowned (and lovely) executive chef of
Greens
in San Francisco, as an antidote. It might not cure what ails you (or your kids), but it sure does help.
Garden Lettuces with Fuyu Persimmons, Pears, Walnuts, Pomegranates, and Pear Vinaigrette
This is from Annie's book,
Everyday Greens
.
From Annie:
"You can make this lovely fall salad with any combination of greens -- just be sure to include arugula -- its nutty flavor works exceptionally well with juicy, ripe pears and crisp fuyu persimmons. If you're wondering what to do with that pomegranate you couldn't resist buying at the market, this is the place to use it."
Serves 4 to 6
10 cups of garden lettuce leaves
1 large handful arugula
Pear Vinaigrette (recipe follows)
1 medium Fuyu persimmon
¼ cup pomegranate seeds
1 ripe pear
¼ cup walnut pieces toasted and coarsely chopped
Wash and dry the greens; cover with a damp towel and refrigerate.
Make the vinaigrette.
Cut the persimmon in half and slice crosswise into thin half moons.
Cut the pomegranate in half, gently pull it apart, and remove the seeds from the membrane.
Cut the pear in half; trim away the core, and slice lengthwise.
Place the greens in a large bowl.
Add the sliced fruit and walnuts to the salad and gently toss with the vinaigrette.
Arrange on individual plates and sprinkle with the pomegranate seeds.
Pear Vinaigrette
½ medium pear, peeled, cored, and chopped
3 tablespoons pear vinegar
¼ teaspoon salt
3 tablespoons olive oil
Place the pear in a blender jar with the vinegar and salt; puree, then drizzle in the oil, blending until emulsified.