The Healthful Hedonist: Comfort Food for the 21st Century
Beet Greens
Wednesday, December 9, 2009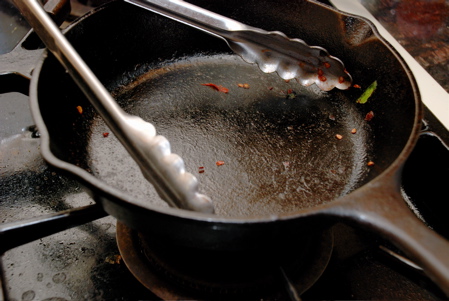 Simple. Sustainable. Savory.


Wednesdays on Mama Cooks.



I'd just put some beets on the stove to cook (for a recipe I'll share next week) and was ignoring the quietly accusing greens. I always intend to cook the beet tops too, but instead they almost always end up dying a slow death in the vegetable drawer. Then, with a mixture of remorse and relief, I throw them out.

But not this time. This time I decide to pretend I'm hosting a cooking show on TV. With my best too-big smile, I dramatically drizzle a healthy amount of olive oil in a pan, thinly slice a large clove of garlic and throw it in, wait a minute then add a couple dashes of hot pepper flakes and a nice pinch of salt, stir in the washed greens until they're wilted, turn off the heat, and throw in a capful of red wine vinegar. As I work, I narrate all the steps for an imaginary audience. I'm on my game today. These TV-watchers can't get enough of me and my beet greens.

My eighth grader walks into the kitchen.

I'm ready for him to take me down, fast, but instead he tells me I should do something stupid as my signature move, like clap every time I add another ingredient.

I try it out. We all like it. I'm camera-ready now! We're laughing when suddenly I say, "Want a taste?" because actually this isn't all for show. There is real food in the kitchen and ideally I'd love to see at least some of those greens going down the throat of one of my children.

"Yeah," he mumbles, then takes a bite.

"Want a small bowlful?" I pursue optimistically, if a little annoyingly.

"No," he grunts. "I want it all." He eats. I smile. "Is this beet greens?" he then asks. I hesitate. He doesn't like beets. What will happen when he finds out? I sigh.

"Yes," I reply, unwavering in my honesty. He can't bully me about my beet greens. If he doesn't like them, he doesn't have to eat them.

"Next time, you should make more. Make more now."

I laugh. "They really are great, aren't they?"

"The red wine vinegar makes it," my young gourmand proclaims. "You should put this on your website."

I realize he's right. I also realize the greens are gone. An empty pan might not make for tantalizing food art, but instead we can take it as a sign: Make some greens. Act a little silly while doing so. I don't think you'll be sorry.