The Healthful Hedonist: Comfort Food for the 21st Century
Vegetarian Lentils
Wednesday, February 3, 2010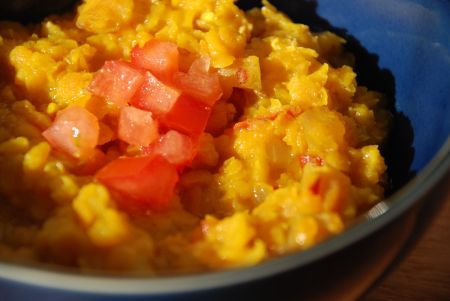 Savory. Simple. Sustainable.

Wednesdays on Mama Cooks.



Temps in Boston have been mostly in the single digits for weeks. When the sun appears, which is rare, its rays are like tea from a teabag that's already been used twice. A friend reports that Mercury just came out of retrograde and while I don't know what that means, it doesn't sound good.

This warm, colorful, complexly flavored lentil dish may not make up for the winter weather here in New England – it doesn't come close – but a bowl of this steaming goodness helps take the sting out of the situation.


Vegetarian Lentils from South Africa

Adapted from The Africa News Cookbook: African Cooking for Western Kitchens
Edited by Tami Hultman
Designed and illustrated by Patricia Ford
(Penguin, 1985)


1 tablespoon vegetable oil
1 large onion, chopped
1 inch ginger, finely chopped
2 cloves garlic, finely chopped
1 teaspoon coriander
½ teaspoon cumin
1 teaspoon turmeric
1/2 teaspoon cardamom
2 teaspoons salt
1 teaspoon crushed red pepper flakes
2 cups orange lentils, rinsed
¼ cup chopped tomatoes


Heat oil in pot, add onions and sweat for a few minutes while you chop the garlic and ginger. Add those to the pot, cook for a minute, then add all the spices, lentils, tomatoes and three cups of water, adding more liquid as needed.

Simmer until done. Adjust seasoning. Serve steaming, warmly, optimistically hot over brown rice.