The Healthful Hedonist: Comfort Food for the 21st Century
Healthy(ish) Chocolate Muffins
Wednesday, February 10, 2010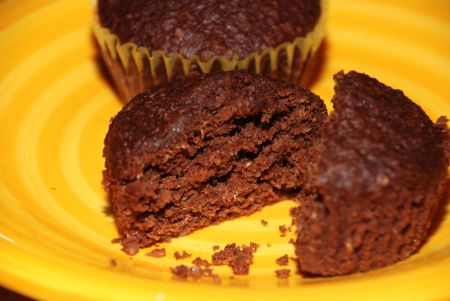 Simple. Savory. Sustainable.
Wednesdays on Mama Cooks.
A reader wrote in asking for a snack she could make for her fella to take on flights (hi, Sarah). At first I thought of granola bars, but after a couple tries I wasn't loving all that well-intentioned oatiness.
Actually, really what I thought of at first was our trip across country last year. Not having done much airplane travel as a family, and knowing how three of the four of us get about food (why are men so hardy?), I brought two full grocery bags on the flight. It was like an airborne salad bar. Embarrassing. Onerous. And yet - delicious.
But not everyone is up for food extremes the way I am. I'm thinking Sarah's friend is one of those people. Still stymied, I gave a talk at a local school and a friend of mine I never get to see, the lovely and charming Kristin McKee, showed up with a gift of these chocolate muffins. She's come up with a recipe that's darkly delicious and yet also somehow healthy-tasting. She serves them to her lucky kids for breakfast. Over the next couple of days I had some at each meal and I can say with authority that they go down well any time of day, although Sarah will have to let me know if they make a suitable dinner substitute for a guy who works crazy hours. (Does anything make a suitable dinner substitute at nearly midnight? If so, it might well be this muffin.)
Now, here's Kristin in all her awesome glory (thanks, Kristin; these were so good):
For the sake of keeping things simple, I will write this recipe as I created it...starting with a box of chocolate cake mix (albeit organic, Dr. Oetker, available at Whole Foods). Should you have a favorite chocolate cake recipe, please use it. If you don't have one, but would rather use one, I recommend an "old fashioned chocolate cake"
here
(although I would substitute whole milk for the sour cream).
Okay, so we have our chocolate cake recipe. From there, you add to the ingredients list the good stuff that you hope your kids won't notice.
2 extra eggs
1 C. Quinoa Flakes (I get them at whole foods, in the oatmeal area)
1 C. hazelnut meal/flour, or almond meal/flour. (I use Bob's Red Mill brand, available at whole foods in the baking aisle)
1 C. applesauce (unsweetened)
1 C. shredded coconut (unsweetened)
1 T. dutch cocoa
First, mix the eggs, and then add the other wet ingredients (butter, milk, applesauce), all at room temperature. Add the dry ingredients, gradually, and then follow the directions in your cupcake recipe.