The Healthful Hedonist: Comfort Food for the 21st Century
Beer Batter Fried Fish
Thursday, May 13, 2010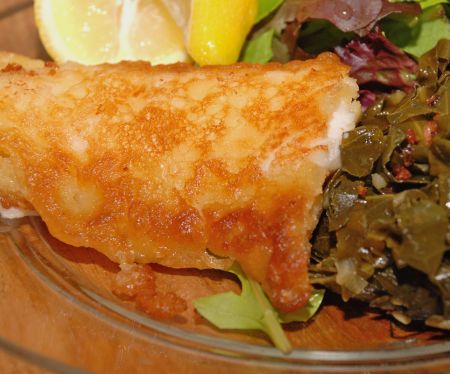 Simple. Sustainable. Savory.
Wednesdays on Mama Cooks.
For all of my Healthful Hedonist recipes, go
here
.
Pardon me if this is a day late. It's been a tough few weeks around here. First, right as we were welcoming 50 people to our house for a party, we found out that all of greater Boston had lost potable water, which made cleanup (and hosting out-of-town guests for two nights) trickier than usual. Then my husband Andy got laid up with a flu; as soon as he was moving back into the world, my daughter Maya went down (and is still there).
So you can probably imagine how thankful I am that Zack, now 14, is able to help in really big ways, as you can see by this photo of the fish he made for dinner one night. I highly recommend having your teen make it for your family too.
Beer-battered fried fish
1 egg
3/4 cup flour
2 teaspoons baking powder
1/2 bottle of beer
salt and pepper
3/4 - 1 pound of white fish, cut in pieces
Mix the ingredients together, dredge fish through the batter, fry in oil heated to 350 degrees. Put the already done pieces in a 300 degree oven until you're ready to eat.
Best of all, have someone else do all of that for you while you do something else, like like on the couch or sweep the floors after a huge party.