The Healthful Hedonist: Comfort Food for the 21st Century
Teriyaki Chicken
Wednesday, March 24, 2010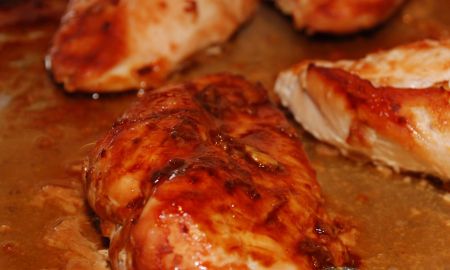 Simple. Sustainable. Savory.
Wednesdays on Mama Cooks.
For all of my Healthful Hedonist recipes, go
here
and click on The Healthful Hedonist link at the right.
It's not often we'll have a big ol' piece of animal flesh as the centerpiece of our meals anymore, but recently I made dinner for some friends whose kids aren't quite as flexible as mine. So, a big hunk of meat it was. This sauce was outrageously good (thank you Ellie Krieger), and as the photo hopefully shows, it was like lacquered chicken. Not surprisingly, everyone else in my house was thrilled. And secretly, I was too.
Sauce adapted from Ellie Krieger,
Food Network
¼ cup low sodium soy sauce
2 tabelspoons brown sugar
2 tablespoons dry sherry
2 tablespoons rice vingegar
2 garlic cloves, crushed or minced
1 teaspoon freshly minced ginger
Mix everything together and marinate chicken for up to four hours. Bake chicken, basting with the sauce .