The Healthful Hedonist: Comfort Food for the 21st Century
Pork Tacos
Wednesday, March 10, 2010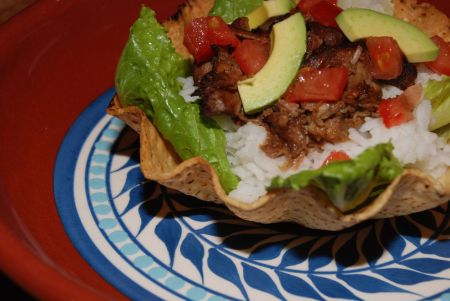 Simple. Sustainable. Savory.


Wednesdays on Mama Cooks.



Recently I've been experiencing a healthy food backlash. It's like a yin-yang, seesaw kind of thing, encompassing both healthy and binge behaviors. For example, recently lunch consisted of a bowl of homemade sustainable seafood soup, a mess of organic kale, leftover organic hash browns, a few caramels, some candy from my purse that I don't even like, and five generous servings of potato chips.

This is what happens when you feel deprived, I guess. Considering how much I love meat, and how infrequently I eat it these days, it's not surprising I would find myself in front of the meat counter discussing the pros and cons of butts with a man sporting a funny little smile. And that then I'd have to buy one.

I realize the pig might have a different perspective, but to me it was worth falling off the meat-free wagon. I never set out to become a vegetarian, only to use less meat. I forgot, but from now on, that's what I'm going to do.


Pork Tacos

2 - 3 pounds boneless pork butt, cut into 2-inch pieces
2 cups water
1 teaspoon dried oregano
Juice of 1 lime
Juice of ½ orange
1 jalapeno, seeded and chopped
3-4 garlic cloves, peeled and finely chopped
1 red onion, sliced
Couple tablespoons tomato paste
Salt

Put everything into a Dutch oven and cook at 300 degrees for 2-3 hours, or until the meat is falling-apart soft. Take the lid off and let it cook for another half hour or so, until the liquid has reduced and become saucy. Then pop it under the broiler for a few minutes – keep an eye on it – until the top is good and crusty. Shred with a fork.