The Healthful Hedonist: Comfort Food for the 21st Century
Dairy-free Golden Lemon Cake with Blueberry Sauce
Wednesday, April 28, 2010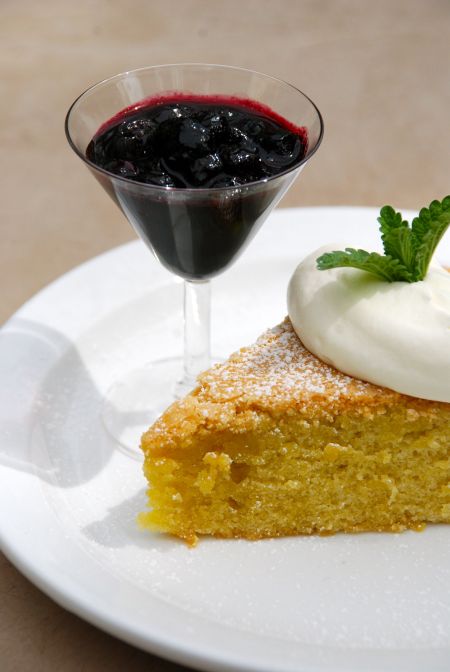 Simple. Sustainable. Savory.
Wednesdays on Mama Cooks.
For all of my Healthful Hedonist recipes, go
here
.
My friend and neighbor asked if I had a good golden cake recipe for her son's birthday party. He's allergic to dairy. I didn't then, but do now. Here's what I came up with. The key is using mild olive oil.
3 large eggs at room temperature
1 cup sugar
¼ teaspoon pure lemon oil (I use Boyajian. It keeps forever in the fridge and is great to have on hand.)
1 cup sifted flour
¾ cup extra-virgin olive oil
Preheat the oven to 350 degrees and oil an 8-inch springform pan.
Beat the eggs, sugar and lemon oil in a mixer on high speed for about five minutes, or until thick and pale. Gently fold in the flour, then do the same with the oil. At first it will be so thin you might think you've done something wrong, but the oil brings it all back together.
Bake for 40-45 minutes or until a cake tester comes out clean. Serve with blueberry sauce. (I know, the photo has whipped cream. We're not allergic to dairy, thankfully.)
Blueberry Sauce
3-4 cups frozen bluberries
½ cup sugar
½ teaspoon powdered ginger
¼ teaspoon salt
¼ teaspoon pepper
Put everything in a pan on the stove and simmer until saucy (like you, sugarbuns), maybe 15 minutes.