The Healthful Hedonist: Comfort Food for the 21st Century
Turkey Bolognese
Thursday, April 22, 2010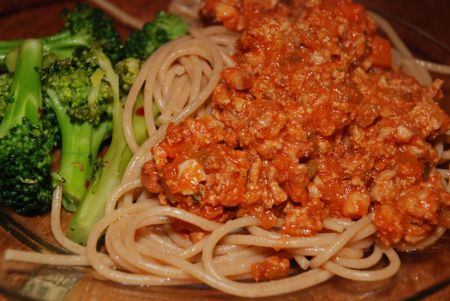 Simple. Sustainable. Savory.
Wednesdays on Mama Cooks.
For all of my Healthful Hedonist recipes, go
here
.
Andy came up with this particular version of turkey bolognese and it's so, so good.
Not much else to say - I'm posting late, it's school vacation week, things are just a little too busy. And you?
2 tablespoons olive oil
3 tablespoons bacon, minced
½ cup carrots, minced
½ cup celery, minced
½ cup red onion, minced
3 tablespoons shallot, minced
½ teaspoon white pepper
1 teaspoon salt
1 bay leaf
3 large cloves garlic, minced
1 pound ground white meat turkey
½ cup chicken stock
1 cup white wine
1 can tomato paste
½ cup milk
In a large skillet, heat the olive oil and add bacon. Cook until crisp and set aside. Add all the veggies and aromatics (from carrots through garlic on the ingredients list), cooking until soft. Add turkey and heat until almost cooked through, then add in chicken stock, white wine and tomato paste, simmering until reduced, about half an hour. Add milk in the final five minutes.