The Healthful Hedonist: Comfort Food for the 21st Century
Tomato Soup and Blue Cheese Popovers
Wednesday, November 11, 2009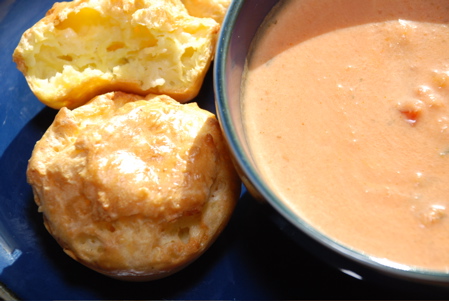 Wednesdays on Mama Cooks.

Savory. Simple. Sustainable.



Coming as soon as tech glitches are figured out (hopefully any hour now): a mushroom and chestnut soup for Thanksgiving from yet another great Boston chef.


NB: A few people have asked if I can email them when I post a new column. The answer is no, I can't; I know email clutter all too well, although thank you for asking! Instead, you can sign up via that subtle yet effective RSS button on the upper right of this page.

Also, a few people have asked if I can put a "Share" button on my site so they can post the column to Facebook. (Again, thanks for asking!) Done and done. Look for the Bookmark and Share button with far more options than I even understand here on the Columns page. (My wonderful web designer must have decided it was too unsightly for my pristine Home page.)

Thank you for stopping by Mama Cooks!





I made this delightfully easy soup on a chilly fall day. No one was sick and the sun was out, but I was feeling a little lonely. This is one of the downsides of working alone at home. (There are plenty of upsides to make up for it.)

Cooking always cheers me up, though; eating well, even more. Once the photo was good enough to satisfy my staff photographer and art director, otherwise known as my husband, I sat down to eat. The soup was mostly smooth from pureeing, but also a little crunchy from fresh vegetables. I hadn't intended to add cream – Rich Edes adds two cups because that's what chefs do – but then I had to drizzle a little in at the last moment. The resulting silkiness made me glad I had succumbed to temptation. The salty, airy blue cheese popovers were an inspired accompaniment. It was the ultimate in comfort food, but with an elegant twist.

By the time I finished lunch I wasn't just feeling full, but also more cheerful. It was almost as if I'd taken myself out to lunch, only without the bill. This would also be a great lunch if you're actually eating with other people and not just by yourself – say, if you're feeding company over the holidays – because it's a little bit fancy, but not fussy in the least. Still, it works just fine if the table's only set for one.



NB: The Scarlet Oak Tavern in Hingham, MA and Gibbet Hill Grill in Groton, MA will be open on Thanksgiving from 11:30 a.m. – 7 p.m. with prix fixe menus priced from $34 to $49. Offerings include New England Style Roast Turkey and Stuffing, a vegetarian entre like Sqauash Agnolotti (at Gibbet Hill) or Pumpkin Raviolis (at Scarlet Oak), a variety of steaks and seafood entrees.

Reservations suggested.




Tomato Soup

By Gibbet Hill Grill's Rich Edes

Makes four to six servings


1 28-ounce can of tomato filets (I bought whole plum tomatoes then sliced them)
1 Spanish onion, diced
1 carrot, peeled and diced
2 stalks of celery, diced
1 tablespoon of fresh thyme leaves
1 tablespoon of chopped parsley
4 cups of vegetable stock
2 cups heavy cream (or not!)
1 tablespoon of vegetable oil
In a medium stockpot, sweat the carrot, celery and onion in the oil over low heat until soft. Make sure not to brown the vegetables.

Add the tomato filets, thyme, parsley and vegetable stock and bring to a simmer.

Continue to cook for 20 to 30 minutes until the tomatoes have begun to break down and the vegetables are tender.

Take two thirds of the soup and place it into a blender and puree until smooth. Add the pureed soup back to the pot and mix with the chunky soup. The texture should be smooth with nice chunks of tomato and vegetables.

Add the cream, or don't – it's still great without it – then season with salt and pepper to taste.



Blue Cheese Popovers

By Gibbet Hill Grill's Rich Edes

Makes 12


1 cup of water
3 ounces unsalted butter
Pinch of sugar
1 tablespoon of kosher salt
5 ounces of flour (just a little more than 1 cup)
cup of Great hill blue cheese, crumbled fine
4 – 5 eggs


Preheat the oven to 450 degrees and oil a 12-cup muffin tin.

Combine the water, butter, sugar and salt in a medium saucepan and bring to a simmer over medium-high heat. Reduce the heat to medium, add the flour all at once, and stir rapidly with a heatproof spatula or wooden spoon until the dough pulls away from the side of the pan and the bottom of the pan is clean, with no dough sticking to it.

Remove the pan from the heat and allow the dough to cool for a minute or two. Transfer the dough to the bowl of your mixer, fitted with the paddle attachment, and mix for a few seconds to release some heat from the dough.

On medium speed add the 4 eggs, one at a time, beating until each egg is completely incorporated before adding the next one. Turn off the mixer, and with a rubber spatula lift some dough out of the bowl. If the dough is dry or falls off in one clump then add the other egg.

Spoon the dough into the muffin cups, then bake for 10 minutes. Turn the pan around, lower the temperature to 350 degrees and bake for another 15 minutes. Remove the puffs from the oven and break one open. It should be hollow inside and not gooey; if it is still moist, return it to the oven for another five minutes.