The Healthful Hedonist: Comfort Food for the 21st Century
Balsamic Roasted Onions
Wednesday, November 25, 2009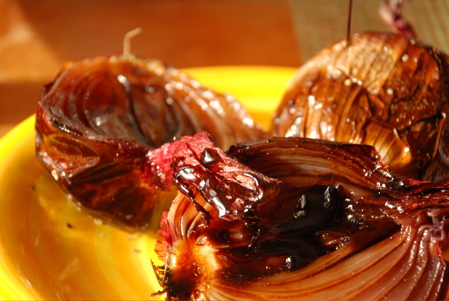 Simple. Savory. Sustainable.
Wednesdays on Mama Cooks.
I don't know about you, but lately I'm especially thankful for anything low-key and simple, from friendship to food. That's why I was so excited when I got this gorgeous yet utterly doable recipe from Annie Somerville, renowned executive chef of
Greens
in San Francisco. It's from her book,
Everyday Greens
. They're perfect for this week because the oven will already be on and they hardly take up any space and many of us have extra onions lying around the pantry; just put a few in a pan and throw them next to the bird (or beast or tofurkey, if you actually roast such a thing).
If you do, you'll find your house smelling even more outrageous. As for me, I've never felt this way about onions. A good amount of time in the oven plus some reduced balsamic vinegar added up to something miraculous. When my husband, Andy, and I had finished taking photos, I brought these inside, stood at the counter and took a bite. I only meant to sample one, but soon enough I'd eaten a whole orb. It was rich yet light and salty-sweet – it was as if I'd never tasted an onion. The leftovers went in salads for the next couple of days, then they were gone.
I love simple pleasures - even ones that don't last quite as long as we'd wish - as well as a good surprise. This dish provided both. Thanks, Annie.
Here's to a simply wonderful Thanksgiving for all.
Balsamic Roasted Onions
Serves four to six
Annie says:
These dark, rich onions lend a savory touch to any meal. Served warm or at room temperature, they're delicious alongside a lasagne or filo, as an element of an antipasto or simply placed on a colorful platter. The onions are roasted whole, then brushed with reduced balsamic vinegar to enhance their natural sweetness. The roasting time will vary with their size; cook them until they're absolutely tender.
3 medium-size red onions
Extra virgin olive oil
Salt and pepper
¼ cup water
1/3 cup balsamic vinegar
Preheat the oven to 375F. Remove the outermost layer of onion skin, rub the onions all over with olive oil, and sprinkle them with salt and pepper. Place the onions close together in a baking dish and roast, uncovered, for about 1 ½ hours, until tender when pricked with a fork. (The onions will release their juices while roasting and should be soft but not mushy.) Remove the onions from the pan and set aside. Add the water to the baking dish and stir to loosen and collect the pan juices; transfer to a small saucepan. Add the vinegar and cook over medium heat for 2 to 3 minutes, reducing the mixture to about ¼ cup syrup.
Cut the onions in half lengthwise and brush the cut surface generously with the syrup, allowing it to sink down into the layers. Sprinkle with salt and pepper to taste and serve.