The Healthful Hedonist: Comfort Food for the 21st Century
Swiss Chard Tacos with Smoky Chipotle Salsa
Wednesday, November 4, 2009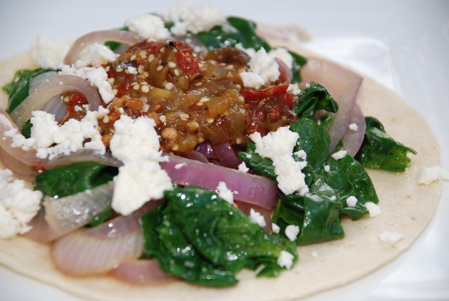 Simple. Sustainable. Savory.



Wednesdays on Mama Cooks.
We were having a busy day of cleaning, grocery shopping and raising two kids, but friends were in worse shape: packing to move. Wanting to help, but never wanting to pack boxes, we offered something else instead: dinner. Maybe it wasn't exactly what they needed most, but we each do what we can.


And what I can do is make really easy meals. This one was not only super fast (and cheap), it also left everyone who ate it feeling happy, and how many fast, cheap (and healthy) things can you say that about these days?

I used spinach instead of chard; the sweetness of the onions was perfectly complemented by the mild queso and the smoky, sultry salsa. My friend said she and her husband couldn't stop talking about it for the rest of the night.



Swiss Chard Tacos with Smoky Salsa

from Everyday Mexican by renowned chef, author and TV host, Rick Bayless.

Rick recently finished shooting Season 7 of "Mexico – One Plate at a Time" for PBS. It was all shot on location in Mexico City; in one episode he shows viewers this amazing stand called Taco Shola where they serve this great taco.
I wish I could say this recipe brought me right back to Mexico City, but I've never been to Mexico City. Still, I can eat as if I have, or even better, might go someday . . .



Serves 2 – 4

INGREDIENTS

A 12-ounce bunch of Swiss chard (or collard, mustard or beet greens), thick lower stems cut off
OR 10 ounces cleaned spinach, lamb's-quarters or amaranth greens
1 tablespoons vegetable oil, olive oil, fresh pork lard or bacon drippings
1 large red or white onion, sliced into inch rounds
3 garlic cloves, peeled and finely chopped
1 teaspoon red pepper flakes
cup chicken broth, vegetable broth or water
Salt
12 warm corn tortillas
1 cup (4 ounces) crumbled Mexican queso fresco or other fresh cheese such as feta or goat cheese, for serving
about cup smoky chipotle salsa (recipe below)


Cut the chard crosswise into inch slices (small spinach leaves, lamb's-quarters and amaranth greens can be left whole). In a very large (12-inch) skillet, heat the oil (or its stand-in) over medium-high. Add the onion and cook, stirring frequently, until golden brown but still crunchy, about 4 to 5 minutes.


Add the garlic and red pepper flakes and stir for a few seconds, until aromatic, then add the broth or water, teaspoon salt and the greens.


Reduce the heat to medium-low, cover the pan (if you don't have a lid a cookie sheet works well) and cook until the greens are almost tender, anywhere from 2 minutes for tender spinach and amaranth greens to 7 or 8 minutes for thick collards; Swiss chard needs about 5 minutes.

Uncover the pan, raise the heat to medium-high and cook, stirring continually, until the mixture is nearly dry. Taste and season with additional salt if you think necessary. Serve with warm tortillas, crumbled cheese and salsa or hot sauce.


NB: Rick Bayless suggests adding in shredded leftover pork, chicken, steak, tuna or salmon for a heartier meal; he also likes the smoked firm tofu you can get at natural-foods stores.


Smoky Chipotle Salsa with Pan-Roasted Tomatilloes
Makes about 1 cup
3 garlic cloves, peeled
4 medium (about 8 ounces total) tomatilloes, husked, rinsed and cut in half
2 canned chipotle chiles en adobo
Salt

Set a large (10 inch) nonstick skillet over medium-high heat. Lay in the garlic and tomatilloes, cut side down. When the tomatilloes are well-browned, which could take a few minutes, turn everything over and brown the other side. The tomatilloes should be completely soft.

Scoop the garlic and tomatilloes into a blender jar or food processor, along with the chiles and cup water. Process to a coarse pure.