The Healthful Hedonist: Comfort Food for the 21st Century
Carrot Kibbeh
Wednesday, October 28, 2009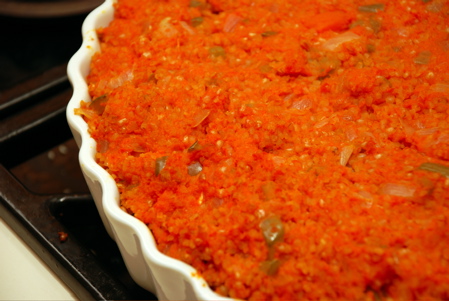 Sofra
is a bakery/caf in Cambridge, MA owned by acclaimed Boston chef
Ana Sortun
. I've fallen in love with it, proving it's possible to feel very strongly about a café. My friends will even use it as a reward, as in, "If you do this hard thing you don't want to do, afterwards we'll go to Sofra." So you can imagine how I felt when I got this recipe from Ana.
Seeing that her carrot kibbeh called for a number of steps, I decided to make it in two batches. While carrots simmered I put the Swiss chard on to cook, then toasted the pine nuts. Everything was done at the same time and I was feeling somewhat in charge - an accomplishment right there. I even had just two cups of carrot liquid left over from making the carrot pure, the exact amount I needed. Feeling proud, I poured the carrots and water into the blender when – boom! - the blender bottom cracked and hot water shot out. I jumped back, barely avoiding a burn.
With dirty dishes still on the counter, a pot of cooked greens on the stove and hot carrot water all over my kitchen floor, I did the only thing I could think of: headed out to the hammock. It was a sunny October day. I closed my eyes and let the sun warm my face. Half an hour later, refreshed and ready to face the mess, I went back inside. The carrot water had almost dried making it easier to wipe up, and there weren't nearly as many dishes as I'd thought. Things had almost magically improved, because that's what things do – not always, it's true, but more often than we expect.
The mess and broken blender were worth it. The comforting carrot and bulgur mixture was punctuated by the sweetness of raisins, salty cheese and the rich crunch of pine nuts. I shared some with friends whose comments ranged from "Oh my God" to "I can't stop thinking about it" to "When can I have the recipe?" One embarrassed baby sitter had to admit she'd finished off the last of the pan. Who could blame her? She said it was the best thing she'd ever eaten.
Carrot Kibbeh with Pine Nuts & Golden Raisins
By Ana Sortun
Ana writes:
"We serve this at Sofra often. You can make this in a pie pan and sandwich
the filling in between two layers, bake and cut like a pie for an easier at-home
version.
This version of kibbeh (the Arabic spelling) or kfte (Turkish) is simple to
make. The kibbeh is baked and steamed, which gives it the consistency of a
dumpling: soft and pliable with a creamy center. I mold the kibbeh in a
jumbo espresso cup, stuff it with some of the carrot puree and
cheese, and then bake it in the oven just before serving. The kibbeh is a
wonderful accompaniment to any grilled vegetables or meat. You can make the
carrot puree, kibbeh, and filling ahead of time and assemble and bake them
right before serving. I like the tall, thin shape that an espresso cup gives the kibbeh. But since Italian espresso cups usually only hold cup, I use jumbo espresso cups. Any -cup ramekin should work."
I made it in an 11-inch ceramic tart pan and it fit perfectly: bottom layer of carrot and bulgur mixture, topped by the Swiss chard mixture, sprinkled with cheese, topped with carrot and bulgur mixture.
Makes 7 cups.
Ingredients
cup of butter (You can use olive oil instead)
1 large onion, peeled and finely chopped
1 large green bell pepper, seeded and finely chopped
cup extra virgin olive oil +2 tablespoons
2 teaspoons sweet paprika
1 teaspoon tomato paste
1 teaspoon ground cumin
2 cups squash carrot puree (see instructions below)
1 cups fine bulgur
Salt and pepper to taste
cup of pine nuts, lightly toasted
cup golden raisins
2 bunches of Swiss chard, stems removed and washed
2 cloves garlic, minced
1 cup crumbled feta
Preheat oven to 375F.
1. In a small, heavy saucepan over medium heat, bring butter to a boil and then reduce the heat to medium-low. Simmer for about 10 minutes, until the butter turns brown and smells like hazelnuts. The butter has just clarified--the solids have sunk to the bottom and the water has evaporated--and it can burn quickly (turning from brown to black), so you must watch it carefully after 6 minutes of simmering. Strain the clarified butter immediately through a fine sieve into a small bowl. Allow the butter to cool, and set aside.
2. In a large saucepot or soup pan over medium-high heat, cook the onions and peppers in cup of olive oil for 8 to 10 minutes, or until the onions are translucent and the peppers are soft. Stir in the paprika and tomato paste. Stir in all of the carrot puree and cook for about 5 minutes, until the carrots are hot.
3. Reduce the heat to low and stir in the bulgur. Turn off the heat, cover, and let sit for 15 minutes. The mixture should be soft, like dough. Season with salt and pepper to taste, and stir in the brown butter.
4. Meanwhile roughly chop the Swiss chard to make the filling. In a medium saut pan, over medium heat, add 2 tablespoons of olive oil and stir in the chard. Add 2 tablespoons of water to the pan and season the chard with some salt and pepper to taste. Stir in the garlic, raisins and pine nuts and continue to cook until the chard is tender and the raisins are soft and all the water has evaporated from the pan, about 8 minutes.
4. Fill each cup with cup of kibbeh mixture. Then, using your forefinger, make a hole in the center of each cup so that you almost touch the bottom. The hole should be big enough to fit a couple of teaspoons of filling in the center. This will cause some kibbeh to rise up over the cup, which is good, since you will use it to fold over the filling.
5. Using a teaspoon, fill each hole with 1 generous tablespoon of filling 1 generous teaspoon of feta. Seal the tops with the overlapping kibbeh. A few little holes may remain, but try to encapsulate the cheese filling as best you can.
6. Place the cups on a heavy baking sheet and bake for about 15 minutes, or until they are hot.
7. Turn the kibbeh out of the cups and onto plates and serve with any leftover filling on the side. When you split the kibbeh open with a fork, the center should be warm, soft, and creamy.
Preparing the Carrot Puree
Cut up approximately 2 pounds of carrots into 2 inch chunks. Place in a
large saucepan covered with water and bring to a simmer. Simmer for at
least 20-25 minutes until carrots are very tender. Drain and reserve 2 cups
of cooking liquid. Puree the carrots with the liquid and salt and pepper to
taste in a food processor with or without a couple of tablespoons of olive
oil or butter.