WINTER
Life is Tough Chicken
Wednesday, January 17, 2007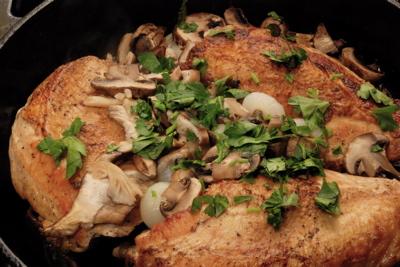 We served this chicken on Saturday night for a friend and his daughter. (His wife, my friend E, was in Sanibel Island, Florida for work, poor thing. Her husband is the dad in
this story
.) The chicken itself wasnt tough at all; it was tender and crispy and everything youd want in a chicken dinner. But how it got like that is, I think, a little bit instructive.
Its called Smothered Chicken, but I think of it not so much as smothered as heavy, weighted-down, slightly depressed chicken. In fact, it hadnt occurred to me until I started writing that it seems right lately, when theres a lot of trouble going around: my friend Rs husband is going in for surgery today (and she has a new dog, not to mention a sick daughter), and my other friend Rs daughter has been wrestling with a stomach bug that wont quit (its been around, on and off, for three weeks), and lots more stuff like that. It sure is mid-winter, isnt it?
The good news is, it turns out that smashing and squashing and
crushing
chicken in such a manner makes it turn out even better than it was before the assault; at times like this, Id like to think that life can have the same effect on us.
Smothered Chicken with Mushrooms
Adapted from
Craig Claibornes Southern Cooking
1 chicken (3 pounds), butterflied (split down the backbone, breast left intact and unsplit)
salt and pepper to taste
4 tablespoons butter
pound mushrooms, sliced, halved or quartered, depending on size
16 very small white onions (about 1 pound), peeled and left whole
1 bay leaf
tsp. dried thyme
cup dry white wine
cup chicken stock
2 tablespoons finely chopped parsley
A black iron skillet is essential for the authentic preparation of this dish. Sprinkle the chicken on both sides with salt and pepper.
Melt two tablespoons of the butter in the skillet and add the chicken, skin side down. Cover the chicken firmly with a plate that will fit comfortably inside the skillet. Add several weights, approximately five pounds, to the top of the plate. Cook over low heat until the skin side of the chicken is nicely browned, about 25 minutes.
Pour off most of the fat from the skillet and add the remaining 2 tablespoons butter. Turn the chicken skin side up. Scatter the mushrooms over the chicken. Scatter the onions around it. Add the bay leaf, thyme, wine and chicken stock. Replace the plate and the weights and continue cooking over low heat about 45 minutes longer.
Remove the chicken to a warm platter. Spoon the mushrooms and onions around the chicken. Cook down the skillet liquid until reduced by half. Pour this over the chicken and sprinkle with parsley.