FALL
Thankful
Wednesday, November 29, 2006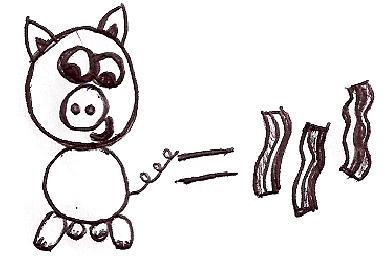 A week ago Sunday, 10-year-old E and I were sitting on the couch in front of the seasons first fire. His head was on my shoulder. We were reading, five-year-old P was playing quietly by herself, and BD was preparing dinner.

But as usual, all was not as it seemed. E was actually reading a book about an underground civilization that forms after a nuclear war annihilates most life on Earth. P suddenly stopped playing and started fussing because she wanted me to read a book to her, which made too much noise for E, who then got annoyed. And I was reading What to Eat by Marion Nestle, a book that confirms everything I both already know and fearfully suspect about the American diet. Meanwhile, BD was grilling us up a rack of ribs. (Isnt grilled pork carcinogenic in at least two ways?)

Then, during dinner, P piped up, Why arent we having Thanksgiving dinner?

Because its not Thanksgiving yet, I replied.

She seemed so disappointed that I quickly added, But we can talk about what were thankful for and then it will be a Thanksgiving dinner! (No one snaps me out of a foul mood like P.)

P, grinning: Yeah!

E, snarling: Oh great, P. (Apparently, E isn't quite as charmed by his sister as BD and I are.)

BD and I then go through the usual parent routine: were thankful for our family, good food, our warm house, blah blah blah. When were done, P makes up a little song: Im thankful for pickles and Jello and doughnuts and ketchup, maybe ribs if theyre not spicy, and birthday presents and balloons and cupcakes and cherries. And sprinkles. And Cheez-Its. Your turn, E.

Theres only one thing Im grateful for, E says sullenly, and thats dads cooking. I glare. And our family, he adds, beaten down, but only for a moment before he recovers and adds, Do we have any vegetarians in our family? (He hasnt met most of his cousins in Ohio, which is where we were going for Thanksgiving.) If we do, we can just ignore them.

Of course he was kidding, but as in all comedy, there was a grain of truth. I woke up in the hotel one morning to find the drawing featured at the top of the page. I take the blame.

Naturally, E is delighted when we say that for tonights dinner his dad is making:

Spicy Pork Stir-fry with Cashews
From Epicurious

1 tablespoon medium-dry Sherry
2 teaspoons cornstarch
3 tablespoons soy sauce
2 teaspoons Asian sesame oil
3/4 lb boneless pork loin, thinly sliced, then cut into 2- by 1/4-inch strips
1 teaspoon sugar
3 tablespoons peanut oil
2 teaspoons minced peeled fresh ginger
2 teaspoons minced garlic
1/2 teaspoon dried hot red pepper flakes
1 large red bell pepper, cut into 1/4-inch-thick strips
1/2 lb snow peas, trimmed
1 cup salted roasted cashews
Accompaniment: rice

Stir together Sherry, cornstarch, and 1 tablespoon soy sauce, then stir in sesame oil. Add pork, stirring to coat well, and let stand 10 minutes.

Stir together sugar and remaining 2 tablespoons soy sauce.

Heat a wok or large nonstick skillet over high heat until a bead of water dropped on cooking surface evaporates immediately. Add 1 1/2 tablespoons peanut oil, swirling wok to coat evenly, then stir-fry 1 teaspoon ginger, 1 teaspoon garlic, and 1/4 teaspoon pepper flakes until fragrant, about 5 seconds. Add bell pepper and stir-fry 2 minutes. Add snow peas and cashews and stir-fry until snow peas are crisp-tender, 1 to 2 minutes. Transfer vegetables to a bowl.

Heat remaining 1 1/2 tablespoons peanut oil in wok until just smoking, then stir-fry remaining ginger, garlic, and pepper flakes until fragrant, about 5 seconds. Add pork and stir-fry, separating strips, until browned and barely cooked through, 2 to 3 minutes. Add vegetables and sweetened soy sauce, then stir-fry until vegetables are just heated through, about 1 minute more.

Makes 4 servings.