FALL
Question of the Day
Wednesday, October 11, 2006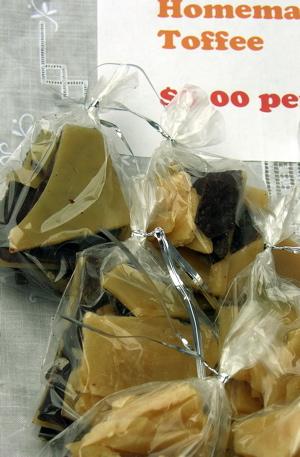 To find out about the book I'm writing for Algonquin Books, go here.

If you'd like to receive (infrequent and very short) e-mails when I have pieces on npr.org, sign up here.

New post up every Wednesday. Recipes coming soon (been a little busy this week). Thanks for stopping by.
Today the kids and I sold homemade toffee, snack mix, chocolate-covered strawberries and dog biscuits at a farmers' market to raise money for our local food pantry. That's because BD and I want our kids to learn how to be caring, responsible citizens.
On the other hand, we're so busy and tired, and it's just so much easier to get stuff done
without
them that, for the past few days, the two of us have been dashing around town buying ingredients, in the kitchen cooking and stirring and dipping, and designing labels and packaging it all up while the kids are off at soccer practice or playing in the other room. They have definitely helped, both of them, but ...
Last night, after another day of prep work, never mind my own work and the unfolded piles of laundry (always the laundry), E came into my office where I was writing to ask me something about the strawberries. Totally exhausted and out of patience, I told him I wasn't home.
"You're not home?"
"Right. I'm not here." Somehow he and BD managed to figure it all out without me, and while the berries did have just a tiny bit of water under them this morning, it really all worked out just fine. As for the toffee (which I made two nights ago), it was good enough to cause a fight between me and E, who wanted to eat it both right before bed the night I made it, and then just after breakfast the next morning. Maybe I should "go out" more often.
Anyway, while we may not be guiding them toward a life that includes lots of selfless good works the way we had in mind, at least we're doing a great job of teaching them how to delegate.
Seriously though, how do I let these things happen?
Cinnamon Toffee/Nut Brittle
by Jen Pearson, pastry chef of
Conundrum
16 oz. unsalted butter (European-style butter works best, says Jen, but, adds Betsy, so does the lousy Stop & Shop house brand if you're in a pinch, which she always is)
1 cup granulated sugar
1/4 tsp. cinnamon (which, I have to admit, my kids wouldn't let me add but I really wanted to)
1 tbsp. light corn syrup
In a small, heavy saucepan, melt the butter.
Stir in the sugar, corn syrup and cinnamon. Occasionally stir until toffee reaches 310 - 315 degrees on a candy thermometer. When temp is reached, pour onto silicone baking mat or onto parchment paper that's been sprayed with cooking spray..
Let cook and break into pieces. Store in an airtight container between pieces of parchment.
Option 1:
After temperature is reached, stir in 1 cup of your favorite nuts (lightly toasted). Tastes great with salted peanuts or cashews!
Option 2:
After spreading toffee on mat or parchment, sprinkle good-quality chocolate chips on top. The heat will melt the chocolate so it will eventually stick to the toffee surface. Spread around a bit with a spatula so it's smooth, then place in fridge for 15 minutes when toffee has cooled to set the chocolate.