FALL
The Halloween Grinch (That's Me)
Tuesday, November 1, 2005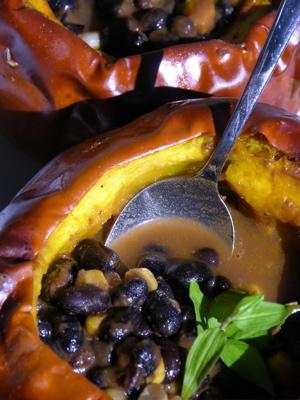 "Aren't you a little old for this?" the man asked.

It was October 31, 1983. I was a senior in high school. Two of my best friends and I had decided to go trick-or-treating one last time, for nostalgia's sake. And for the candy.

So there we were at 9 PM on some stranger's doorstep, lamely covered in sheets we'd pilfered from our parents' linen closets, greedily holding out pillowcases. We were about as tall as the man who answered the door, and two of us - my pals DK and E - had voices as deep. The man seemed annoyed with us - for all I know, we had woken up his own little trick-or-treaters - and he might even have been a bit nervous to see three not-so-juvenile ghosts on his doorstep.

That was our last house of the night.

The next time Halloween showed up on my radar, I was in my mid-twenties. With all the enthusiasm of the newly married but childless (and so still well-rested), I bounded down the steps each time the bell rang. I lasted about an hour before fatigue and boredom set in. How many tiny goblins can a person fawn over in one night, I wondered.

Things got worse. I had a child. Until his second Halloween, his diet had mainly consisted of organic vegetables and hormone-free meat. Now I was supposed to teach him to knock on strangers' doors and beg for candy? I resisted as long as I could, but, caught up in a wave of peer pressure, I succumbed. His disbelief was matched only by his glee.

The nadir came when my son was four and I was two months pregnant with our second child. Tired, nauseous and fed up, I had my husband take our son trick-or-treating while I stayed home "to rest." I turned the lights off and channel-surfed with the volume down. We left a bowl on the porch with a sign to "take two," like grumpy kid-haters do when they're not home on Halloween (or else are, ahem, faking it).

Something had to change. I couldn't hide in a darkened room forever. My first line of attack was to win converts to my position. I offered the kids a buy-out plan, but my bid wasn't high enough. E engaged in some fierce negotiations, but I wouldn't budge. In the end, there were no takers. Next, trying to get in the spirit of things, I bought some spider web tights, but forgot about them until the elastic had already lost its bounce. Then I thought that maybe it would be fun to steal from my kids' stashes like all my friends do, but frankly, I couldn't get away with it; my kids' candy inventory system is so efficient, it could probably be patented.

In one final, desperate attempt to make this holiday mine, I invited friends over for a festive meal. As I look back on that night, I realize I must have been possessed by the evil (and sarcastic) ghost of All Saint's Day. There's no other explanation for:


Betsy's Spooky Dinner Menu
Black Cat, After the Accident
(black bean soup in a roasted pumpkin)
Pumpkin Goo
(tortillas with melted orange cheddar)
Monster Brains
(guacamole)
Ghost Blood
(salsa)
Mac 'n fleas
(mac 'n cheese with poppy seeds)
Snowy slush
(frozen orange juice)
Creepy Candy
(from trick-or-treating)


Black Cat Guts
(Black Bean Soup in a Roasted Pumpkin)

six 2-lb. pumpkins (they'll be small enough to hold in one hand)

Cut off the pumpkin tops and clean out the seeds. Rub the insides of the clean pumpkins with olive oil, salt and pepper. Roast at 400 degrees for about an hour, or until soft. (To make kids happy, rinse the seeds, making sure to get rid of every last bit of icky pumpkin residue. Sprinkle them with salt and roast them on a cookie sheet next to the pumpkins at for about 15 minutes.) Fill with black bean soup:

1 lb black beans (if you get them pre-packaged, it's fine if you have a few ounces less)
4 strips bacon, diced
1 onion, diced
2 stalks celery, diced
3 cloves garlic, chopped or smashed
2 quarts chicken stock, plus water as needed (we used two of those strange boxes that don't need refrigeration)
2-3 Tbsp. tomato paste
4 sprigs each fresh thyme and oregano (or 2 tsp. dried of each, or instead, 1 Tbsp. of cumin and/or a cup of chopped cilantro)
salt and pepper
2 ears corn, kernels cut off the cob

Cover beans with water (the water should come about 2" above the beans). Bring to a boil for two minutes, then turn off the heat and let the pot sit for a few hours until you're ready to cook. Drain the beans and rinse them with fresh water.

Fry the bacon in a soup pot until crisp. Add the diced onion and celery; saut until soft, about five minutes. Add garlic; saut for just thirty seconds. Add the chicken stock, soaked beans, tomato paste, herbs, salt and pepper. Simmer for about two hours. Add more chicken stock or water as needed. Add the corn and cook for five more minutes.