Stories without recipes
What to Drink
Tuesday, October 24, 2006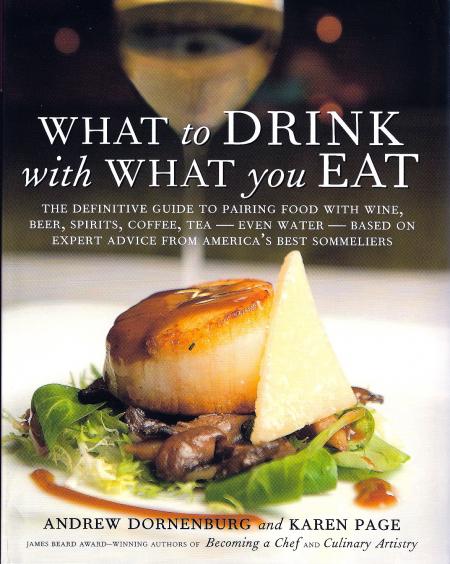 For a truly spooky story about Halloween food crafts, go here.
To check out Make Mama Look Good, go here.

Join the e-mail list if you want to know when I have a piece on NPR Online or in other mainstream media markets.

Otherwise, new post up every Wednesday. Thanks for stopping by.
I have tons of cookbooks, food narratives and other food-lovers' staples in my office pantry (otherwise known as a bookshelf). But the one I almost always have right here on my (brand new, extra-large, heat-seeking) desk is "Culinary Artistry" by Andrew Dornenburg and Karen Page, the prolific James Beard Award-winning husband-and-wife writing team.
I have a bunch of their other books and have enjoyed them all, but "Culinary Artistry" is a personal favorite because frankly, it helps me make dough, and I'm not talking about the kind you bake. When I'm doing recipe development, this book is where I always start my research. It brilliantly offers up classic food pairings, so that when I get an assignment to devise a butternut squash recipe (or four, as I did recently), it tells me that squash goes well with cheddar cheese, curry, pears and sage, among other ingredients. In other words, it tells me just what I need to know.
So when Karen Page contacted me to see if I wanted to write about their latest book,
What to Drink with What You Eat
, I figured that based on what they've already done for me, I practically owe it to them; besides, I would have bought it anyway.
What to Drink is set up in the team's usual way, featuring anecdotes, interviews, quotes from an extensive panel of experts, great art and, most important, incredibly practical information in an easy-to-use format. Their research is exhaustive and their books are comprehensive, which is why, if you're looking to find out - you know - what to drink with what you eat (or what to eat with what you drink, a different section), this would be the obvious place to start (and probably end).
True, some of it ain't brain surgery; for muffins, for example, they suggest light-roast coffee. But do you know what to drink with zucchini? Dolcetto and Valpolicella, especially with tomato sauce. Of course this isn't what you'd want to serve with zucchini
blossoms
; that would be dry Gewurtztraminer, Pinot Grigio or Arneis (an Italian white from Piedmont, the book tells me. I should have known). And if you can't find your cheese-related answer within the book's astounding 13-page cheese section, you must not be asking the right question.
"What to Drink" is itself like a tall glass of water - sparkling, of course, slice of lime on the side. (Goes well with cheese, chocolate and sushi, among other things.)