Stories without recipes
Rusty Metal Sculptures
Wednesday, November 23, 2005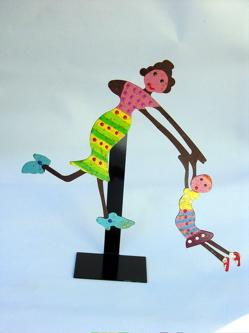 It's late November - holiday shopping season - and on a recent Sunday, my husband BD and I found ourselves drawn to a festival in downtown Boston that featured crafts, food and a gingerbread house competition. BD thought we should go so I could check it out for work; I'd told him I might want to feature mail-order specialty foods on Mama Cooks. We sold the plan to the kids by telling them about the gingerbread houses. We also offhandedly let them know that the fair would be Free Sample Central.
As soon as we arrived, nine-year-old E got right to work tasting chips, trying olive oil, sampling hot chocolate and spiced nuts and cookies. I grew hopeful when I saw a couple of foods that looked good, but once I tried them (or tried to get near the table but couldn't), the flame went out. How many dip mixes, salsas and hot sauces can a person get excited about, anyway? Though I know every company has its story and I'm sure I could fall in love with lots of them, it was too much action in too crazy a space. I lost interest.
Instead, I stopped thinking about work and went back to just enjoying the day. We walked over to see the gingerbread houses (which were magical), plied the kids with junk food, and meandered the aisles looking at the hats and stuffed animals and sports memorabilia. Most of it was too cute for my taste, but it was still fun.
And then we came upon Bill Finks and his metal art figures. They were unlike anything else I'd seen that afternoon. Enthralled, I poked around his kiosk for a few minutes, but the kids grew restless so we had to move on. A couple minutes later I realized I had to go back.
This is highly unlike me. I do appreciate beautiful things, but mostly I'm not a visual person. I can admire a blown glass vase or a hand-knit sweater and move on without a second thought. But for some reason, these charming, whimsical figures made my heart beat just a little faster in a way I've learned to pay attention to. After inspecting as many of the sculptures as time allowed, I bought two.
It turned out I wasn't the only one who was moved by them. As soon as we left the fair we went straight to the art store where BD, E and P all went shopping. (I went across the street and got myself a new sweatshirt.) We came home and the three of them covered the dining room table with their stuff. P put stickers on blank cards, then dictated what I should write inside. ("Dear J, I love you, love, P.") BD started taking the keys off an old typewriter for some project he had in mind, and E, taking a direct cue from our new artist friend, made this enchanting dog:
As for me, I didn't want to make anything with my hands. Instead, I started thinking (and writing). I'd gone to the fair looking for food. What I'd found and fallen in love with instead was rusty metal. Inspiration is like that; it usually arrives out of the blue.
One of the definitions of inspiration, of course, is "breathing in." And we all know that taking in everything we see out there often leads to sorrow, grief and disappointment. It can lead to illness, and even death. Maybe it's best just to hold your breath.
But that's no way to live. Besides, just as often, taking it all in leads to something else entirely; a fairy house made from gingerbread, say, or a love note from a preschooler. Inspiration is easily crushed, ignored, or dismissed. If not caught, it can fade away within moments. But while it may be fleeting, it's also strong. Joy and love - the stuff of inspiration, when you think about it - are probably just as viral as fear or nasty germs. Maybe even more so. But I don't really think we've given them a fair shot yet.
Now's as good a time as any to start.
Pierre the Artiste
Holiday Shopping, Mama Cooks-style
Artist Bill Finks has generously offered readers of this site a 10 percent discount on the purchase of any one of his sculptures, or a 15 percent discount on two, plus free shipping for all purchases. Just tell him that I sent you (Mama Cooks or Betsy Block).
You can check out his work at
Primitive Twig
, but he also has art ready to ship that's not necessarily on his site. For example, the two sculptures I got were both on stands, and they were both small and inexpensive. You won't see them on his site. Plus, he has ornaments, pins and garden art listed on his site, but he's not selling those any more. If you're at all interested in buying a piece, I encourage you to contact him. He can tell you what he has available. He's a great guy.
His number is 810.240.9418. (He's not so good with e-mail, so if you can call, I recommend it. If you live too far away, though, he will get your e-mail, just not as quickly.)
And to make this clear: I'm not getting any financial benefit from this arrangement - there will be no kickback for Mama. My only goal is to spread inspiration (joy, love) like a virus.
Pass it on.