I Did It!
Monday, September 8, 2008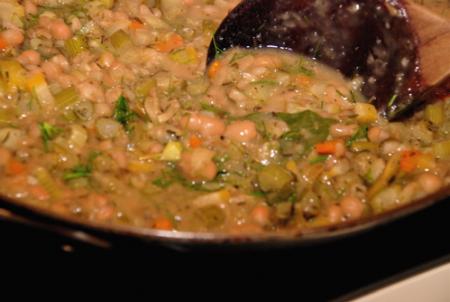 (TO LEARN MORE ABOUT MY NEW BOOK, GO
TO THE DINNER DIARIES WEBSITE
.)
I looked in the fridge, came up with a plan, and made dinner on the fly.
It's miraculous, I agree, but there are two reasons I was able to create something delicious without a plan, a trip to the store, or a cookbook: I had
five whole minutes to think
, along with
The Flavor Bible
, which had just come in the mail. The latest book by the prolific writing couple Karen Page and Andrew Dornenburg – their seventh – doesn't give recipes, but instead lists flavor affinities, techniques and great pairings, all of which they've been thinking about and working on for nearly a decade.
So here's how it went down in my house:
I started with the fennel, which has been hidden away in the back corner of the vegetable bin since last week. I consulted page 157 of the book and started putting a dish together in my mind: olive oil, garlic, two aging carrots, the little bit of lemon thyme left on the plant in the front yard. White beans. A fresh bay leaf. Salt and pepper. I opened some German wine but it was too fruity and sweet for the sauce, so instead I poured myself a glass and kept on cooking. I haven't had this much fun in a while; it was just me, the kitchen, and a bottle of wine. I was so happy that I pulled out the round of goat's milk boucheron I'd been saving for company and put it on the school night dinner table along with some toasted bread.
Was my sauce simple? Absolutely. But it was also delicious. Should I be able to look in the fridge and cook by instinct? No doubt. But my brain is so full, and I'm so lacking in creative juice lately, that I can barely decide what kind of cereal to pour, never mind make dinner from ingredients I find on hand. Thanks to
The Flavor Bible
, though, not only was I able to pull a really tasty meal together at the last minute, I even enjoyed doing it. It's so nice to find a resource book that, rather than telling me what to do, gives me the tools I need to make something special (or simple) by myself. Thank you, Karen Page and Andrew Dornenburg. This will be my "cookbook" of note for the foreseeable future. Now, if only someone else could take care of the dishes hovering in the sink and covering the counters . . .