Welcome To Mama Cooks
Tuesday, August 30, 2005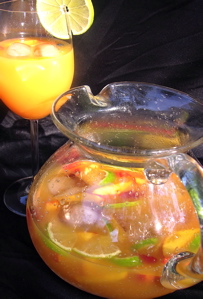 When Mama ain't happy, ain't nobody happy,
So Daddy's gonna make Mama happy tonight.
Thanks for stopping by Mama Cooks.
My name is Betsy Block. I live near Boston with my husband and two kids. But while I may be the professional food writer in the house, my husband - BD - is the one most often cooking dinner. And nothing makes Mama happier than that.
Actually, BD and I both love to cook and eat, but with two kids running the house -- I mean running
around
the house -- things can get a bit hectic around here. There's still dinner to contend with, though, no matter how tired we are.
So on Mama Cooks, every week I'll post at one new essay about food, marriage, parenthood and more, along with recipes we've tried and liked in my house. I might also play around with links, tastings, round-ups, interviews with chefs, cooking adventures, or even, if the mood strikes, restaurant reviews. (I maintain my anonymity and pay for my own meals. Also, I never accept free stuff for my site or my personal use, FYI.) Plus this fall, I'll be trying out some column ideas I have, so please check back in and see what you think. If you have thoughts on features you'd like to see, please feel free to
contact
me.
Otherwise, the
clips
section has a small sampling of the hundreds of articles I've published during my 13-years as a freelance writer, and the
bio
section is, I assume, self-explanatory.
Stories
, my favorite section, features essays I'm writing especially for this website. Once in a while, I'll slip in something that's not about food, like the piece on
Roxy
I have up now, but not often.
Anyway, if you like, mix up a pitcher of this delicious blond sangria before the summer slips away, which will be any day now in New England. And please, come back soon. I'll try to have something good to read -- and eat -- when you do.
Until next time,
Betsy
(Sorry, I had to remove the recipe because it's going in the book.)