SPRING
Catching Up
Friday, May 2, 2008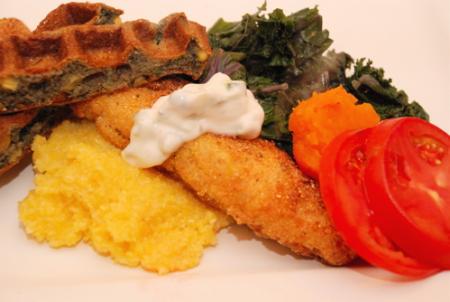 Coming in July 2008 from Algonquin Books:
The Dinner Diaries: Raising Whole Wheat Kids in a White Bread World
Check out
The Dinner Diaries website here.
If you'd like to receive (infrequent and very short) e-mails when I have pieces in real publications, and when my book comes out this summer,
sign up here
.
Two old friends came over for dinner Saturday night. Even though they only live a couple miles away, we haven't seen both of them since
their wedding party
, although we saw one of them at
my fortieth birthday party
. I'm not sure how or why these kinds of disconnects happen with people we love, but they do.
When they got here, they oohed and ahhed while the kids showed them around the house, then after a wonderful Southern dinner (pictured above), we put the kids to bed and did the same while they regaled us with tales of chefs' tables at various Gordon Ramsay restaurants. (He was in the restaurant when our friends were there! The waiter was shaking he was so scared!)
We loved every second of our time together, and and I realized that not only is it comfortable to be with someone we've known, in Andy's case, since he was two years old, but as the clock keeps ticking and so much in all our lives changes, it's also comforting.
We can't wait to see them again, the sooner the better.
Fried Catfish
by Emeril
For the recipe, go
to the Food Network website.
Savory Blue Cornmeal Waffles
By Andy
1 1/2 cups blue cornmeal
1/2 cup whole wheat pastry flour
1 1/2 tsp. baking powder
1 tsp. baking soda
1 tbsp. sugar
3/4 tsp. salt
2 large eggs
1 1/4 cups buttermilk
6 tbsp. unsalted butter, melted and cooled a bit
1 1/2 c. frozen white corn, thawed
Whisk the eggs with the sugar until fluffy, then combine with everything else and mix together. Don't overbeat.
Pour into preheated waffle iron and cook until done. Cut into sticks and serve under the catfish.