SPRING
Just One of Those Days
Tuesday, July 29, 2008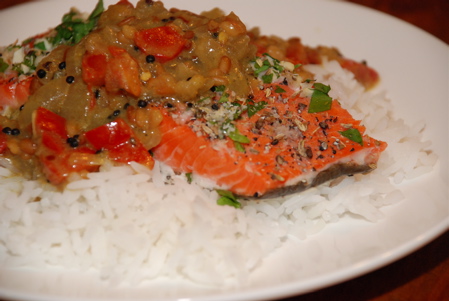 Coming in July 2008 from Algonquin Books:
The Dinner Diaries: Raising Whole Wheat Kids in a White Bread World
And now,
the book website is up!
If you'd like to receive (infrequent and very short) e-mails when I have pieces in real publications, and when my book comes out this summer,
sign up here
.
I optimistically took the wild salmon out of the freezer this morning, because tonight we were going to make fennel and cardamom-rubbed salmon with a coconut milk sauce by cookbook author extraordinaire,
Raghavan Iyer
. His latest book, 660 Curries: The Gateway to Indian Cooking, is coming out with Workman in April.
But at 5 a.m., Maya awoke saying – that's right – she didn't feel well, and yes of course she had a fever. Not only did the thermometer signal a day home from school (watch as I cancel a day's worth of activities and appointments in mere minutes!), but it also meant a full day of kvetching. Trying to salvage at least a part of my workday, I cleaned my office, which was when I found the form from the RMV informing me that my driver's license expired on my birthday – three days ago.
And so, when Andy got home from work at a little past 5 p.m., I was in no mood to make the dish I'd so been looking forward to. But when he said that he was up for helping – I'm sure it had nothing to do with the fact that I didn't have a backup dinner plan – I got back into the spirit of the thing. He was smashing spices on one side of the kitchen while I made coconut sauce on the other; suddenly, things were looking up. I can't say the stress of the day dissolved immediately; that started happening once Zack, Andy and I sat down to dinner (Maya ate rice in front of the TV). The spice-rubbed salmon was deeply flavorful; the sweetness of the coconut milk in the thick, rich sauce was offset by just a touch of heat from chilis. It was intense and delicious. I cheered up. A few minutes after clearing our plates, our neighbor came over – the one we'd had to cancel a baking session with this afternoon – offering us a thick slice of banana bread warm from the oven.
I admit: it's almost always true that things could be worse. Okay, and that I'm easily distractible - give me a good meal and I'm a new woman.
Fennel and cardamom-rubbed salmon with a coconut milk sauce
Raghavan plans on serving this at the Monterey Bay Aquarium's
Cooking for Solutions
event; I was invited to attend but can't go. But while I may not be heading to California this May, at least I got to sample some of this chef's most wonderful fare.
He writes:
"I can't think of a better match for this delicate but rich-tasting sauce than firm-fleshed salmon fillets. Serve the curry over a bed of slightly sticky long-grain white rice to mop up all the succulent flavors."
Tips:
•
Sambhar masala is a blend common in south Indian dishes, especially in their signature Sambhar – a stew redolent with roasted spices and brimming with seasonal vegetables in a tamarind-based curry. The blend is easily available along with the lentils used in this recipe in any store that carries Indian groceries. English-style Madras curry powder is a passable alternative should you have no other choice.
•
Fresh curry leaves, a distant meber of the citrus family, are common to the coastal cuisine of India. These leaves are used similar to bay leaves to impart an aromatic and delicate flavor to may of their dishes. The Indian grocery store stock these in the refrigerated section all year long. If unavailable, leave them out since there is no substitute for their flavor.
1 teaspoon fennel seed
1 teaspoon cardamom seed (removed from pods)
1 to 2 dried red Thai or cayenne chilies
1 1/2 teaspoons salt
2 tablespoons finely chopped fresh cilantro
4 medium cloves garlic, finely chopped
4 (six ounces each) boneless, skinless wild salmon filets
1 tablespoon canola oil
1 teaspoon black or yellow mustard seed
1 tablespoon skinned and split black lentils (cream-colored in this form) (urad dal), picked over for stones
1 cup finely chopped red onion
1 cup coconut milk
2 tablespoons finely chopped fresh cilantro leaves and tender stems
1 teaspoon Sambhar masala
1 teaspoon coarse kosher or sea salt
10 to 12 medium to large fresh curry (karhi) leaves
1 large tomato, cored, and finely chopped
1.
Place the fennel, cardamom, and dried chilies in a spice (or coffee) grinder; grind until the spice blend is the texture of finely ground black pepper.
2.
Thoroughly combine the ground spices, 1 teaspoon of the salt, 1 tablespoon of the cilantro, and garlic in a medium bowl. Press the spice rub into both sides of each salmon filet and refrigerate covered at least 1 hour. You can safely marinade the fish overnight since there is no acid in the marinade that would break down the fish and adversely affect its texture.
3.
Meanwhile heat the tablespoon oil in a small-sized saucepan over medium-high heat. Add the mustard seed. Cover the pan and wait until all the seed has stopped popping (not unlike popcorn), about 30 seconds. Add the lentils and stir-fry them until they turn golden brown, 15 to 20 seconds. Immediately add the onion and stir-fry it until reddish-brown, 5 to 7 minutes.
4.
Dump in the coconut milk, cilantro, sambhar masala, salt, and curry leaves. The milk will immediately start to boil. Lower the heat to medium and simmer, uncovered, until it thickens slightly and some of the oil may start to separate from it, 5 to 10 minutes.
5.
Stir in the tomato and allow it to warm and remain firm, about 2 minutes.
6.
If grilling, brush the grill rack with vegetable oil. Heat coals or gas grill for medium-high heat. Place filets directly on grill rack; cover and grill fish about 3 to 4 minutes, each side, until fish flakes easily with fork. To Broil: Set oven control to broil. Lightly spray or brush the rack of the broiler pan with vegetable oil. Place fish on rack in broiler pan. Broil with tops 2 to 3 inches from heat 3 to 4 minutes, each side, until fish flakes easily with fork.
7.
Place the salmon on a serving platter and serve topped with the coconut milk sauce.