Make Mama Look Good
Make Mama Look Good
Saturday, October 22, 2005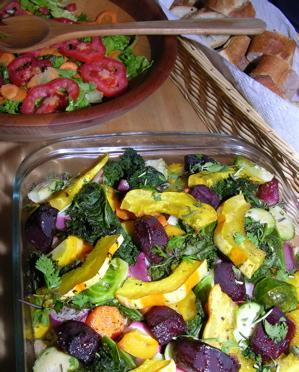 NPR.org - I'm a fraud. I haven't cooked in a decade. That's when we had our first child and my husband quietly took over kitchen duty. Even when we entertain -- okay, especially when we entertain -- this food writer is nowhere near the kitchen. Our unspoken deal has been that I invite people over for dinner, my husband cooks, and we both get praised.
It's far past time for me to come clean, make amends, pick up where I left off so long ago. It's time for me to make dinner.
You think that sounds easy? People expect great things from a food writer. I may be a professional critic, but everyone else in my life thinks that they are, too. My kids taunt me, saying, "Daddy's the best cook in the house." This is unfair and untrue, but then again, how are they supposed to know that unless I step up to the -- you know -- plate?
I need help. Professional help. I need recipes that even I, a harried and hassled mother of two, can pull off. Recipes that will make me (and all other mamas, papas, sons and daughters) look good, whether in front of family, friends or other Important People.
And so, in the name of saving face, I've boldly started calling top-level chefs, asking for simple but impressive recipes for the home cook. Whether the recipe is for an upscale appetizer party or a down-home casserole, dinner or dessert, makes no difference. I need help with all courses, every dining situation. My only rules: There can be no finger-chopping mandolines, no homemade stocks, no fuss, no muss. I don't have a sous-chef; I have kids.
For my first foray back into the kitchen, I set the bar high and invited four adults over. In other words, I went from twiddling my thumbs for most of my 30s to suddenly having to prepare dinner for a party. For advice (and that all-critical recipe), I turned to Bob Sargent, chef/owner of Flora in Arlington, Mass. He suggested a somewhat elaborate yet stunningly impressive "Nearly Vegetarian Cassoulet."
I balked at first -- the recipe involved so many ingredients and steps -- but I'd tasted this dish last year. It was delicious. It could make me a star.
Happily, when I actually sat down and read the recipe, I realized I could do it. I could break it down and do it in stages. Relieved, my thoughts turned to other matters, such as the fact that when I'm cleaning one room, my 4-year-old is trashing another, and that we don't even have enough dining room chairs. Unfortunately, for those problems, I was on my own.
Next, I devised a strategy for my inaugural meal. I cooked the beans in the morning while I worked, then let them sit on the stove while I went and did the Mom thing. I prepped the veggies when my kids got home from school, and then I assembled and baked the cassoulet after I'd given my daughter an early bath.
Total active prep time logged in at a full hour, spread throughout the day. That's a long time -- I'd only attempt it for a dinner party -- but I still managed to do some work, get the kids from school, and make the dinner and dessert. Although it took some advance planning, the execution was quite simple, even for me.
Finally, after 10 long years, dinner was served. I plunked the cassoulet down on the table with some bread and butter and told everyone to dig in. Thirty minutes later, the pan was almost empty.
I don't mean to brag (okay, yes I do), but let's just say that I heard the words "incredible," "unbelievable," "fantastic" and "delicious" associated with my cooking. By the next morning, one of my guests had already asked for the recipe.
Not a bad start for this cowering mom who's been shamelessly hiding behind her husband for a decade. In fact, making dinner was so successful that I think I might try it again sometime soon...
Bob Sargent's Nearly Vegetarian Cassoulet
flora restaurant
One of our pals keeps kosher so I made the vegetarian version, but adding pork can only make it better. Sargent explains that he devised this dish when he was the executive chef of Harvest, a storied restaurant in Harvard Square, Mass:
"When I started as the chef at Harvest, they had been having a 'game fest' for many years. I thought the idea was tired and I wasn't very enthused, to say the least. I got the owner to agree to a 'vegetarian fest' instead, featuring multi-course vegetarian options. It was quite well received, and much more to my liking. The vegetarian cassoulet was on that menu and became a staple during the early Flora days as well. I must say that these days I'd fancy the dish quite a bit more with a touch of the pig -- maybe some smoky bacon, or pancetta, or neck bones cooked with the beans. I do find the winter vegetables on top more interesting than the traditional cavalcade of salty meat, though."
Serves 6-8
1 pound flageolet, white beans, cannellini or pea beans, rinsed then soaked overnight
Olive oil
1/4 pound slab bacon, cut in 1/2-inch dice (optional)
1 split pig's foot or ham hock (optional)
2 carrots sliced 1/2-inch thick
1 cup onions, diced
1/2 cup thinly sliced leeks (rinsed well)
5 cloves of garlic, peeled and crushed
1/2 teaspoon red pepper flakes
1/2 tablespoon salt (probably more to taste, particularly if omitting pork products)
Bouquet garni (4 sprigs each thyme, rosemary, parsley tied together with butchers twine)
1/2 cup tomato sauce or tomato puree
1 quart meat stock, vegetable stock or water
1 cup toasted bread crumbs
1/4 cup minced fresh herbs (choose a few from parsley, oregano, marjoram, thyme, rosemary, chervil)
1 tablespoon melted butter or olive oil
1 cup each, all peeled and cut into 1-inch chunks, shape not important -- turnips, beets, parsnips, rutabaga, celery root, winter squash
1 cup trimmed, blanched Brussels sprouts, halved if larger than 1 inch
1 1/2 cups blanched kale leaves, coarsely chopped
Rinse the beans, then soak in water (covered by 2 inces) overnight. Rinse again and drain.

In a heavy stockpot set over medium heat, add the diced bacon and pork products and a small splash (1 tablespoon) olive oil. If omitting pork, add 2 tablespoons olive oil and go to step 3. Let the bacon cook for a couple of minutes. (This is relatively unimportant, but a little caramelization can be nice.)

Add the carrots, onions, leeks, garlic, pepper flakes and salt and cook for a few more minutes over slightly higher heat until a little color starts to show itself on the vegetables.

Add the beans, bouquet garni, tomato and stock (if using). Add just enough liquid (stock or water) so that it covers the beans by an inch or so and bring to a simmer. Cook the beans, covered if possible, until almost done. The time will vary depending upon which type of bean you use, but will probably take between 1 1/2 to 3 hours. Periodically check the liquid level; there should be just enough to almost cover the beans when they're done. Add more water as needed. Almost done means the beans are holding their shape and are still a little resistant to the tooth -- like garbanzo beans from a can. Remove from heat and adjust salt and pepper level. Let cool. (A version using canned beans follows, but even I was able to pull this off with real beans!)

While the beans cook and cool, par-roast the vegetables. Toss each type of root vegetable and the squash with a little olive oil, salt and pepper. Keeping them separate, roast in a 400 degree oven for 15-20 minutes until a little browned, but also still a little crunchy in the center. I guess you'd call this not easily pierced by a fork. Toss the blanched Brussels sprouts and kale with a little oil, salt and pepper and set aside.

Mix the bread crumbs with half the fresh, chopped herbs, salt and pepper to taste, and butter or olive oil.

In a shallow casserole (a 9 x 13-inch glass pan works well), arrange the beans in a 1 to 2-inch layer and top with the seasoned bread crumbs. Bake at 350 degrees for 30 minutes.

Arrange the vegetables over the top of the beans in any pattern (or no pattern). Return the cassoulet to the oven and bake for another 15 minutes.

Remove, sprinkle the other half of the fresh herbs on top, and eat!


Note: It is possible to prep all of the elements the day before you intend to serve the cassoulet. Keep them separate and refrigerated until it's time to assemble, then heat thoroughly.

The Canned Bean Option

Though it will taste better if you use dried beans, it will still be good with canned. If you decide to go for this version, though, Sargent strongly recommends using at least some pork to add flavor:

Instead of dried beans, use 4 standard-sized cans of beans (15 ounces).

Drain and rinse the beans.

Cook the pork until brown (leaving it in for added flavor), then sweat the carrots, onions and leeks in the rendered fat until very soft and fully cooked, about 10 minutes. (Be aware of over-salting if the beans are salted, which most canned beans are.)

Then add in the drained, rinsed beans along with the tomato sauce and proceed to step 5, above.