Make Mama Look Good
She's Still Got It
Sunday, February 19, 2006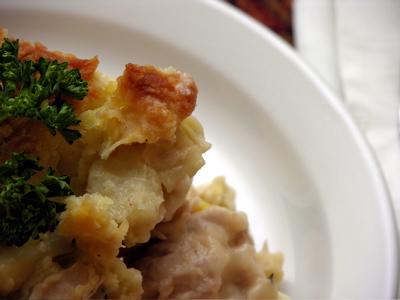 We had friends over for dinner on Saturday night, and as I worked on this chicken pot pie in the morning, I felt a part of myself coming back to life: the old me who loves to spend a couple of hours slowly crafting a delicious meal. The one who got offed about a decade ago, but who seems to still have a little kick in her yet.
We'd invited my new friend L and her family over. L is an extremely successful artist. She'd had us over for dinner once, and it was absolutely great. Granted, she
did
only make roasted chicken, but still. (Kidding.) This would be my first time cooking for her, and I have the sense that she thinks of me as a good cook. In other words, I was just the
teeniest
bit nervous because after all, I'm still getting my sea legs back here after
a decade's hiatus from the kitchen
. Give or take.
This pot pie takes some time to put together because all the elements have to be cooked separately, but then it's just a matter of some last-minute assembly and popping it in the oven in time for dinner. Truthfully, the only reason I was able to enjoy making it was because E was at basketball and for some reason, P was happy playing by herself for an hour. Miracles do happen.
Anyway, by the time I pulled the pot pie out of the oven and L exclaimed, quite sincerely, that it looked beautiful, I felt a swell of pride, along with relief: there's still hope for me after all. I may not know how to dress fashionably, and my hair's always kind of a mess, and the laundry's never finished, but when it comes to cooking, I haven't totally lost it. I've just had to scale it back. Dinner was a smash hit; a total success. And a reminder that there's still a glimmer of the old me buried somewhere underneath all the mess.
And that, come to think of it, the mess is all right, too.
Chicken or Veggie Pot pie to Feed Your Guests (and your ego)
This could easily be made into a vegetarian main dish by omitting the chicken and chicken stock, using veggie stock and upping the amount and variety of root veggies.
FILLING
4 boneless, skinless chicken breasts
4 to 6 cups chicken stock
3 large carrots, peeled and cut into " to " circles
2 large peeled, diced potatoes
haricots verts, washed, ends trimmed and cut into " pieces or frozen peas
stick unsalted butter
1-2 leeks, washed well and sliced
2 large shallots, minced
1 onion, minced
2 tbsp. fresh thyme, minced
cup flour
cup heavy cream or just whatever milk you have around the house
cup dry white wine if you have it, but it's totally fine to leave it out
Butter casserole. Bring the stock and chicken breasts to a boil, then reduce the heat and simmer for 20 minutes or until just cooked through. Transfer chicken to a plate.
Add vegetables to the chicken broth in the pot and cook until tender. (You can add the potatoes and carrots at the same time, then just before they're done add in the haricots verts or frozen peas.) Transfer veggies to the casserole and strain the broth, reserving it for the next step. Cut the cooked chicken into bite-sized pieces (I like 'em really big) and add them to the casserole on top of the cooked veggies.
Melt butter in a pot; add leeks, shallots, onion and thyme and saut until tender, about 5-8 minutes. Add flour and cook, stirring, for about two minutes. Stir in the reserved, strained broth and wine, if you're using it. Increase heat to high, boiling the mixture, then add the milk or cream and keep cooking and stirring until the sauce thickens enough to coat a spoon. Season with salt and pepper, pour over the chicken and veggies in the casserole, and mix it all together.
Now, either let it cool for about an hour, or else you can do all this up to a day ahead and refrigerate the whole shebang. When ready, cover with pulled-off pieces of the biscuit dough (recipe below) so it will look craggy and rustic when it's done. (That's what impressed my artist friend, I'm sure.) There should be a few small spaces between some of the dough blobs to allow steam to escape. Bake at 400 degrees for 45 minutes to an hour, depending on your oven. Let sit for 10 minutes then - dig in.
Serves 8.
BUTTERMILK BISCUIT CRUST
2/3 cup chilled buttermilk
1 large egg
2 cups all-purpose flour
4 tsp. baking powder
dash of salt
cup vegetable shortening
7 tblsp. unsalted butter
Whisk buttermilk and egg together. Whisk flour, baking powder and salt together. Add shortening and butter to the flour mixture and cut in until it's all coarsely cut in. Add the buttermilk mixture and stir just until a moist dough forms. Knead it gently a few times (I just do it in the mixing bowl so I don't have even more stuff to clean up), wrap in plastic wrap and refrigerate until you're ready to assemble and bake it all off. You can do this the day before, too, making this a completely do-ahead meal if you want.