Make Mama Look Good
Call Me Jeeves
Tuesday, November 15, 2005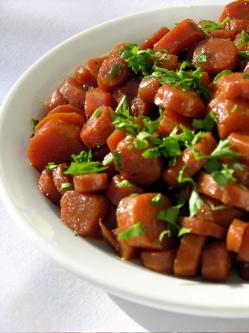 The set-up:
I've never been a big Thanksgiving fan - or a fan of any holiday, really. Something about all the hoopla leading up to the event depresses me; the eerie silence on the day itself (whether it's Thanksgiving, Christmas, New Year's, whatever) actually kind of creeps me out. I like the other, say, 360 days of the year much better.
To stave off the willies last year, we went with my friend R and her family to Old Sturbridge Village, an "18th-century village" an hour's drive from Boston (or, on Thanksgiving, a two-hour drive). We had dinner in the Great Room of the historic tavern; the salvaged wood paneling and gigantic fireplaces were fabulous, although the service was - how to say this - a little angry. (Though I usually think of my family as pretty low-maintenance at restaurants, the server's glare as we asked for gravy on the side made me glad she wasn't packing heat.)
We had fun, but the drive (and the rage) wore us all out. Plus, for some reason, this year the Village has stopped serving Thanksgiving dinner altogether. (I'm trying not to take it personally.) So instead, R invited us over to her house for dinner. I tried to convince her to make a reservation somewhere - making Thanksgiving dinner is so much work, and is usually such a letdown - but R wasn't biting. "Well,
I'm
not cooking," I snapped immaturely.
About a week later, when I realized my half-assed attempt to manipulate her into going out had failed, I accepted defeat and said that of
course
we would bring something. We'd love to. BD offered to make a loaf of his amazing bread (more on that soon), we'd obviously need to bring lots of wine, and I told R I would cook a side dish, which I thought was pretty big of me.
The recipe:
I got a recipe for sauted carrots from Tony Maws, chef/owner of
Craigie Street Bistrot
in Cambridge, Mass. -- and by the way, one of Food & Wine's Best New Chefs of 2005. I thought these carrots would be perfect for Thanksgiving but I wanted to give them a test run first.
Time management:
After dinner one recent night, I went into the living room to fold my third basket of laundry for the day. (This was after having done the dishes twice; cleaned out the fridge; helped nine-year-old E with his homework; taken him to the art store so he could buy some important turkey-making supplies; and waited for him, shivering, while he kicked a ball around with friends on the playground.)
I pulled the basket up to the couch, which is my laundry staging area, and before I could say a word, he plopped himself down right where I was about to start working. I raised a questioning eyebrow at him.
"I was sitting here," he said.
"Well," I said quietly, "you know this is where I fold the laundry. Will you please move?"
"No."
I sighed. "Your choice is to move or fold it yourself."
"Mommmmmm ..." he whined angrily.
"Your choice," I repeated, "is to move, or fold the laundry yourself." My voice was so very, very soft and sweet I could hardly believe it myself.
"You're
so mean
," he huffed, then moved the traumatic 10 feet across the room to the chair.
At which point, though we'd already finished dinner and Thanksgiving was still more than two weeks away, I decided I needed to buy carrots for the Thanksgiving recipe
immediately
. And not from the Stop and Shop at the bottom of the hill, because it smells bad and I hate it. And not from the Trader Joe's that takes five minutes to get to, because that just didn't
feel
right. I needed to buy carrots from one store only - the one that's 15 minutes away. I got in the car, cranked up the tunes and sang out, loud and proud, all the way there. (I'm not allowed to sing when my children are present.) Once at the store, I obviously had to make sure I found just the right carrots, which took longer than you'd expect. It turned out that I also needed a slew of other groceries - spinach, milk, fruit - plus a bouquet of orange tulips. From Betsy, to Betsy, with love. And admiration.
In other words, by this point not only was time management for this recipe completely blown, so was the budget. The carrots themselves cost a mere two bucks. The rest of the groceries: 30 more. But my Great Escape was worth it. I fantasized that while I was gone, BD was folding the laundry and telling the kids that, upon my return, they were to greet me with warm hugs and expressions of gratitude. Instead, as I walked in the door I couldn't help noticing the overflowing laundry basket sitting just where I'd left it. Then, as I walked into the kitchen to put away the groceries, E followed me. I thought he might want to apologize, or just be near me, or maybe even help put the milk away, but truthfully, I wasn't really surprised when instead he asked edgily, "Are those flowers for me?"
I made the carrots the next night. They took about 25 minutes. As they cooked, I made the rest of the meal, none of which I ate because I was escap - I was going out for dinner with a friend.
The outcome:
After I got home from my carrot-buying tantrum, I put little P to bed. Reading bedtime stories to a four-year-old is enough to thaw the coldest heart. All was well once again.
Oh, right, the carrots. Well, I'd tasted them while they were still cooking and thought - eh. But by the time the liquid had reduced and that final pat of butter and those fresh herbs had been stirred in, they were really good. In fact, even though I was headed to a restaurant, I snuck one, then one more, then another ...
Craigie Street Bistrot's Carrots -- Good Enough to Steal
2 pounds of carrots - peeled and sliced (all the same size)
2-3 tbs butter
salt and pepper
1 cup full-bodied red wine
1 cup stock or water
chopped chives and parsley
Saute carrots over medium heat in butter, salt and pepper until just slightly (but not too) brown -- about 10 minutes or until the juices are released, stirring occasionally.
Add red wine and stir to combine pan juices and goodies. Cook over high heat until liquid is reduced to a syrup consistency. Add stock or water. Cover and continue cooking on very low heat until carrots are tender. If necessary, reduce liquid until thick. Add one tablespoon butter and chopped chives and/or parsley. (I recommend using both.)
NB: Someone wrote in asking if she could make this the day before, then heat it up at the last minute, and the answer is a resounding yes! The carrots will look a little skanky when they're cold (because the butter will be congealed), but just warm 'em up in the 'wave, in a pan on the stove or in the oven (covered) and they'll be glistening like gold again. Could this get any better?