Stories without recipes
Fast Train to Fun
Wednesday, January 3, 2007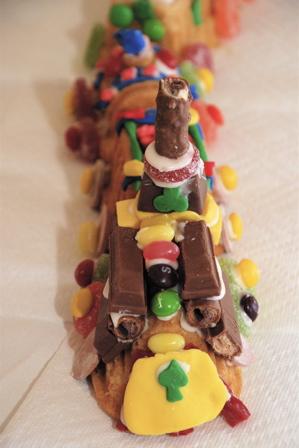 If you'd like to receive (infrequent and very short) e-mails when I have pieces on npr.org, sign up here.

New post up every Wednesday.

Thanks for stopping by.
No real story this week - it turns out I can either do food or I can write, but lately I can't do both. (Things have been a little
too
busy.)
There is a story behind this cake, but it'll have to wait for another day. Meantime, here's the photo of it. You can buy the pan at Williams-Sonoma. Just making this train cake turned into reason to have a New Year's Day party. That's the kind of cake it is.
May your year be filled with parties, train cakes and all other manner of good things.
Vanilla Train Cake
2 1/4 cups all-purpose flour
2 tsp. baking powder
3/4 tsp. baking soda
1 tsp. kosher salt
2 sticks unsalted butter, melted
1 cup sour cream
4 eggs
1 Tbs. vanilla extract
Have all ingredients at room temp.
Preheat oven to 350 F. Grease the wells of the train cake pan (BD thinks a muffin tin would be just as magical for the preschool set) and dust with flour.
Sift the flour, sugar, baking powder, baking soad and salt into the bowl of an electric mixer. In a separate bowl, whisk together the melted butter, sour cream, eggs and vanilla until combined. Fit the mixer with the flat beater. Add the butter mixture to the flour mixture and beat on the lowest speed until the dry ingredients are moistened, 15 to 20 seconds. Stop the mixer and scrape down the sides of the bowl. Increase the speed to medium and beat for 30 seconds.
Bake until a toothpick inserted in the center of each cake/muffin comes out clean, 20 minutes for the train cakes, who knows for the muffins.
And a happy, healthy 2007 to all.