SUMMER
Beach
Monday, August 22, 2005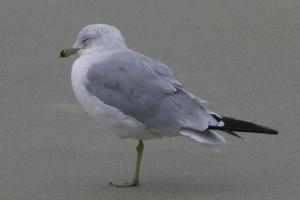 "E wants to know why you're not up yet," my husband BD whispered in my ear. I was still in bed, unmoving. "He says we're leaving in an hour and a half so you should be getting ready."
It was 6 a.m. Fifteen minutes earlier, P, four, had shamelessly woken us up by climbing into our bed. E, nine, had been up for even longer, but at least he knows how to keep to himself.
The waking times were normal, but the kids were especially eager for us to get moving because we were taking them to Plum Island for the day. BD and I had gone there the weekend before (without them) and had fallen in love with the place. But by 5:46 a.m., BD was wondering when our next weekend away without the kids was scheduled. Not soon enough; if we wanted to return, we'd have to take them. Besides, Plum Island's pristine wildlife preserve has very limited parking; we would need to leave by 7:30 in order to get a space. In our house, this is not a problem. Some day we should be so lucky.
So by 6:15 I was dressed and downstairs (E: "What took you so long, mommy?"), and by 7:15 we were packed and in the car. Seven-thirty, bagels and coffee in hand, we were on the road. After a drive I'd rank as "excellent," meaning only a little whining, we arrived at the preserve. Things were looking good.
The kids were impressed by the animal tracks in the unspoiled dunes leading to the beach. These were actual signs of nature, though we had no idea of what could have made them. Some kind of "wildlife," of that we were sure. It was exciting. Even better, we noticed that the beach was practically empty.
Instead of throngs of sunbathers with blaring radios and bottles of tanning oil, here's what we saw: tidal pools with hermit crabs, snails and barnacles. Seagulls, looking unusually clean. And everywhere, scores of endangered piping plover adorably pecking the sand in search of food, then majestically flying off into the sky en masse. All we heard was the crashing of the surf, the sweet twitter of the plover, the joyful cries of the kids as they discovered yet another treasure. Then we found sand dollars.
Greedily, I was also hoping for a repeat performance of something I'd seen the week before, but no such luck. I'd watched, transfixed, as a gull devoured a dead crab it had found on the beach. It picked up the hapless crustacean and methodically pecked its little heart out, stopping only when there was one meager leg left. Next, still hungry (and who could blame it), the bird had dived into the water and come out with a live one. For the next couple of minutes, it was a battle to the death. The gull pecked mercilessly at the crab's hard shell, but the crab fought back hard, desperately stretching out its claws until it could reach the predator's beak to tweak it. The gull would then drop the crab, pick it back up, and get pinched again. Soon enough, though, the crab began to lose its grip, so to speak. The seagull had a feast.
Until that day, I'd seen gulls eat hot dog buns and hamburgers, French fries and fried clams - but never crab. No mollusks. Nothing that was obviously meant for them. Seeing the gull go after that crab was refreshing, to say the least. Here we were at one of the most unspoiled beaches I'd ever seen (NB: more on this in
Beach, part two
), and I'd actually witnessed, first-hand and up-close, a scene of predator and prey, life and death. It made me think.
It also made me hungry. The beach was littered with mussels; no one seemed to be going after
them
...
MUSSELS WITH TOMATO BROTH
Gourmet, January 2005
Gourmet says: Be sure to buy your mussels the day you make this dish, as they don't keep well at home. Gourmet is right.
I'd meant to follow this recipe to the letter, but then I was visiting with my beloved cousins while BD was prepping dinner, and when I came inside he already had a pot simmering on the stove with an unspecified amount of wine, some herbs and onions. I poured in some olive oil, red pepper flakes and canned tomatoes with their juice, since we didn't have tomato sauce, and it turned out great. In other words, use this as a guideline and feel free to adapt as needed.
Throw out any opened or broken mussels.
3 garlic cloves, finely chopped
1/4 teaspoon dried hot red pepper flakes (optional)
3 tablespoons extra-virgin olive oil
1 cup dry white wine
1 cup tomato sauce
4 lb mussels (preferably cultivated), scrubbed and beards removed
Cook garlic and red pepper flakes (if using) in oil in a 6- to 8-quart heavy pot over moderately low heat, stirring, until garlic is pale golden, 1 to 2 minutes. Add wine and boil over high heat 2 minutes. Add tomato sauce and mussels and cook over moderately high heat, covered, stirring occasionally, until mussels just open wide, 6 to 8 minutes. (Discard any mussels that are unopened after 8 minutes.) Serve immediately.
Makes 4 main-course servings.