Make Mama Look Good
Worth Fighting Over
Wednesday, April 12, 2006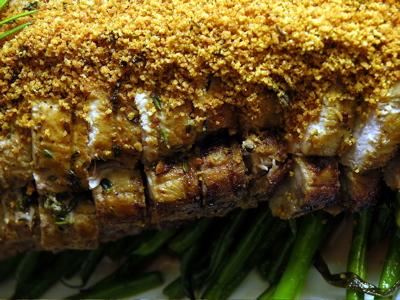 "You're not fighting about mustard, right?" 10-year-old E asked sarcastically, coming into the kitchen where BD and I were - you know - fighting about mustard. "Because that would be really lame."
I sighed, because of course E was right. It wasn't mustard we were fighting about at all. It was much deeper than that. It was about -- OK, honestly? It
was
about mustard.
In my defense, let me just say that BD is by far the pickiest eater (in the Adult category) I've ever met. He won't eat: vinegar, condiments, anything solidly white and creamy (meaning no cream cheese or mayo, although he will use cream in his coffee, but come to think of it he'll eat ice cream too, so there's really no way to understand this one). He doesn't like too much lemon (though a little is all right). He can't stand tomatoes, squash, eggplant. Mushy things like casserole. Tofu. Cabbage. Most desserts. Pretty much anything he hasn't cooked. I'm sure I'm forgetting something.
Which, when you're a food writer and lover of all things edible, is kind of a drag. (Love you, BD.) Add to all that the fact that lately I've been getting these monster recipes from chefs, and maybe you can understand why years' worth of frustration finally boiled over on the morning that I decided to make Suzanne Goin's "herb-roasted pork loin with haricots verts, young onions and mustard breadcrumbs."
Goin and writer Teri Gelber recently published
Sunday Suppers at Lucques
, and Goin had suggested this dish to me. It sounded absolutely delicious. To me. The only "problem"? It had a little mustard in it, and mustard counts as both "vinegar" and "condiments." Doubly
verboten
.
"This time," I almost shouted in the kitchen on the fateful morning that E wandered in, "I'm making it
my way,
and I don't want
you
cooking
anything else
." (BD has been known to do that on occasion, and then if guests like his food better than mine, I get really bummed out.) Let's just say he got the point.
Of course (and fortunately), by the time I started prepping this dish, I'd calmed down and realized that obviously I love my husband more than mustard. Plus, he'd generously said he would eat it if I put in only one tablespoon instead of three, so that's what I decided to do.
Which turned out to be an excellent compromise, because when I took the mustard out of the fridge, I saw that was exactly how much was left in the jar.
Herb-roasted pork loin with haricots verts, young onions and mustard breadcrumbs
From
Sunday Suppers at Lucques
(Knopf; 2005)
By
Suzanne Goin
This is an extremely elaborate recipe, but most of it can easily be done ahead. I did the lion's share of the prep, kitchen cleanup and had taken the kids out to breakfast and returned home all by 10 a.m. (but then we get up sickeningly early in our house). The meat was in the fridge being infused with flavor while we went about our day, living life to the fullest. Then, I finished the veggies and had the roast in the oven by the time our friends arrived, so the adults relaxed and drank fine wine while the roast cooked. OK, not really, because there were three kids under the age of five careening around the house (plus E), but anyway. Sounds good in theory.
The final verdict? Dinner may not have been relaxing, but it was the bomb.
Pork marinade
1/4 cup Dijon mustard
1 tablespoon thyme leaves plus 3 whole sprigs
2 tablespoons chopped flat-leaf parsley
1/4 cup extra-virgin olive oil
10 cloves garlic, smashed
3 pounds pork loin, center cut
6 tablespoons unsalted butter
2 sprigs rosemary, broken into 3 inch pieces
3 sprigs sage plus 10 sage leaves
kosher salt and freshly ground black pepper
Whisk together the mustard, parsley, thyme leaves, and 2 tablespoons olive oil in a shallow baking dish. Stir in the garlic and slather the pork with the mustard mixture. Cover and refrigerate at least 4 hours or overnight.
Take the pork out of the refrigerator one hour before cooking to bring it to room temperature. After 30 minutes, season the pork generously with salt and freshly ground black pepper. Reserve the marinade.
Preheat the oven to 325F.
Heat a large saut pan over high heat for 3 minutes. Swirl in 2 tablespoons olive oil and wait a minute or two, until the pan is very hot and almost smoking. Place the pork loin in the pan and sear it on all sides until well-browned and caramelized.
Transfer the pork loin to a roasting rack and slather the reserved marinade over the top. Slice the butter and place it on top of the pork. Arrange the rosemary, sage, and thyme sprigs on top.
Roast the pork, basting often with the melted butter, herbs, and natural juices, 45 minutes to an hour, until a thermometer inserted into the center reads 130F to 135F. Remove the pork from the oven and rest at least 10 minutes.
Arrange the haricots verts and spring onions on a large warm platter. Thinly slice the pork (1/4 inch thick) and fan it over the beans. Spoon some of the buttery juices and herbs over the meat and shower the mustard breadcrumbs over the top.
haricots verts and spring onions
1 1/2 pounds haricots verts, topped but not tailed
3 bunches young onions
2 tablespoons extra-virgin olive oil
2 teaspoons thyme leaves
2 tablespoon unsalted butter
10 small sage leaves
kosher salt and freshly ground black pepper
Blanch the haricots verts in a large pot of salted boiling water 2-3 minutes until tender, but still al dente.
Cut the young onions 1 inch above the bulb leaving some green top still attached. Trim the roots but leave the root-end intact (this will keep the onions in wedges, rather than slices). Cut the onions lengthwise into 1/4 inch thick wedges.
Heat a large saut pan over medium high heat for 2 minutes. Swirl in 2 tablespoons olive oil and add the onions to the pan with 2 teaspoons thyme. Season with salt and pepper and gently saut the onion wedges 2-3 minutes, until they start to brown slightly. Add the haricots verts, season with 1/4 teaspoon salt and freshly ground black pepper. Cook 3-4 minutes, stirring to combine and then add the butter and sage leaves. Cook a few more minutes, tossing to glaze the vegetables in the butter and letting the sage perfume them. Taste for seasoning.
mustard breadcrumbs
1 cup fresh breadcrumbs
2 tablespoons unsalted butter
1 tablespoon Dijon mustard
1 teaspoon thyme leaves
1 teaspoon chopped flat-leaf parsley
Preheat the oven to 400F.
Place the breadcrumbs in a medium bowl. Heat a small saut pan over medium heat for 1 minute. Add 2 tablespoons butter and when it foams, whisk the mustard, thyme, and parsley. Remove from the heat, let cool a few minutes, and then toss the mustard butter with the breadcrumbs coating them well. Transfer the breadcrumbs to a baking sheet and toast them 10-12 minutes, until they're golden brown and crispy.