Boston Globe
The Making of a Dream
Wednesday, April 13, 2005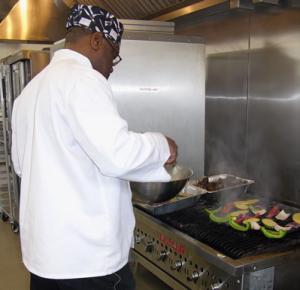 Smoke rises up as chicken hits the grill, sizzling. Caterer Kenneth Perry is making lunch. The tempting smell wafts over to the nearby worktable where Kris Alden has laid out a handful of perfectly red strawberries; shes about to drape them in chocolate as part of a Champagne and dessert party shes preparing for some lucky client.
Then theres the sound of chopping knives (maybe from sushi chef Chek Kooi Changs workstation), and of spoons scraping pots (probably due to the big batch of chicken and ziti that Tahira Cox is cooking, or possibly from the pear and goat cheese salad her mom Lorraine is tossing). And, of course, theres music. It wouldnt be a professional kitchen without tunes. Listen more closely, though, and theres another sound here, one that seems as ubiquitous and essential as a heartbeat: a background hum of laughter and talking.
Welcome to the kitchen of
Nuestra Culinary Ventures (NCV)
on a Friday afternoon. Its a bustle of friendly, purposeful activity, which is exactly what the founders of this kitchen incubator in Jamaica Plain had in mind when they opened the doors in June, 2002. Their goal: to help inner-city entrepreneurs start their own food-related businesses (though its available to anyone with a recipe and a dream). Modeled after a similar program in Colorado, NCV offers a fully stocked, nonprofit commercial kitchen, plus business and legal advice, to area residents who want to cater or produce specialty foods. The kitchen rental fees start at a mere $22 an hour for Boston residents in off-peak hours and top out at $35 an hour for non-Boston residents during peak time. Theres also dry storage, and fridge and freezer storage available on both a temporary and longer-term basis.
NCV
is a program of Nuestra Comunidad Development Corporation (Nuestra), a nonprofit organization promoting economic development for residents of Roxbury. The shared-use kitchen was the brainchild of Nuestras executive director, Evelyn Friedman, who wanted to help entrepreneurs who were working in the food business but not legally. People were cooking out of their kitchens, recalls Friedman, but in order to sell their food by Health Department standards they have to cook in a commercially certified kitchen. And so, the idea for
NCV
was born.
There are currently about 40 entrepreneurs using NCVs kitchen, creating such delicacies as pickles, jams and candies, and catering everything from sushi to Southern. But their success hasnt come easily. Every one of them had to face not only the challenges of the marketplace, but also city and state regulations. Thats why the help NCV offers goes way beyond providing kitchen space.
Heres how it works: First, even though its not a requirement, the staff members at
NCV
and Nuestra strongly encourage people to write a business plan (NCV offers regular how-to seminars for beginners). Next, applicants take an eight-hour class on food safety and sanitation, resulting in a certificate thats good for five years. Then they must get licensed by the city (for retailers and caterers) or the state (for wholesalers); annual inspections ensure that people are maintaining those standards. Finally, they buy liability insurance. Then and only then, theyre given the key to the kitchen. The process can be daunting to newcomers; all of those in the kitchen today express deep gratitude to
NCV
for helping them wend their way through the thicket of paperwork.
Surprisingly, though, despite its affordability and the constant support
NCV
offers its entrepreneurs, the kitchen isnt being used to capacity. Its going well, says Nuestras Friedman, but its very hard for us to break even. Our plan is to have it operate in the black without financial backing from any outside sources, but that hasnt happened yet. Part of the reason is that the program is still relatively young, but its also the case that NCVs purpose -- to help small businesses succeed will always make keeping the kitchen full a challenge. Thats because at first, the businesses start out needing just a few hours. Then, as their sales increase, they need more time in the kitchen, and ultimately, they (hopefully) graduate from the program altogether, thus leaving a hole in the schedule. Its a constant balancing act, says Friedman.
NCVs new director Cary Wheaton hopes to find that elusive balance. Wheaton, who started here five months ago, brings extensive food industry experience to
NCV
. She used to be co-owner of three acclaimed Boston area restaurants: The East Coast Grill, The Blue Room and Full Moon. Theres nothing she wants more than to see the kitchen buzzing at all hours, and shes working to make that happen by getting the word out to the larger community that
NCV
is here. One way shes doing that is by hosting a cooking class series with some of Bostons best chefs.
Another part of Wheatons job is to help current NCV users maximize their success by organizing educational seminars; since she started here in the fall, shes put together forums covering topics such as how to cater and how to sell at a farmers market, as well as a two-part class on how to write a business plan.
In addition to helping people get their businesses off the ground,
NCV
has had other benefits as well. Some of the entrepreneurs are so busy theyve had to hire help, which is great news for people like Bill Dillard, first cook at Perrys Gourmet Services; Jamie Lender, chef of Lorraine Marshalls Specialty BBQ, Inc.; and Cornelia Hoskin of Well, Well, Well gourmet frozen foods, who is thrilled to be able to hire battered women in transition to work for her. It was always important to me to use commerce to make a difference in the world, she says.
Another unplanned bonus of
NCV
is the culture of the kitchen itself; everyone here expresses heartfelt gratitude not only for the kitchen and the
NCV
staff, but also (and quite emphatically) for their fellow cooks. This is a great environment, says Greg Woodworth of Stony Brook Cookie Co. Theres camaraderie, people share knowledge and ideas its a lot of fun. Or as Deborah Taylor of Deborahs Spreadable Fruit points out, Its very exciting to see what people here have to offer not only as businesses, but as people who also want to share their cultures.
Shes right. Walk through the kitchen on a busy afternoon and its obvious that
NCV
has become a home base for cooks of all ages and races who are making food from all over the world.
NCV
is obviously helping people make their way in the world of business, but maybe just as importantly, the kitchen itself has become no less than a model of sustainable living.