WINTER
Beets
Tuesday, February 20, 2007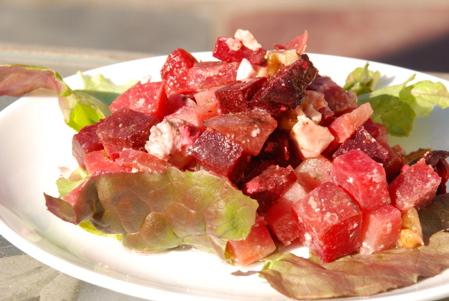 Tech difficulties with my new post this morning (it's just been like that lately), but I'm working on it.

To find out about the book I'm writing for Algonquin Books, go here.

If you'd like to receive (infrequent and very short) e-mails when I have pieces on npr.org, sign up here.

New post up every Wednesday. Thanks for stopping by.
My (mom) friend C and I both loved this beet salad (made from local beets and Massachusetts-made blue cheese, only enhancing its already significant appeal), but neither of our husbands would touch it.
Are there certain foods that men eat at the risk of seeming unmanly? If so, are beets and blue cheese among them?
Sure seems like it from where I sit. But why?
(BD: Ill tell you why. Beets taste like dirt, and they make all other foods red. A man has his limits, and
blue cheese
is one of them.
Oh, okay.)
A Womanly Beet Salad
beets (5-6 medium)
blue cheese (a hunk)
toasted walnuts, chopped (1/4 cup)
good olive oil
Dijon mustard (tablespoon or so)
Good white vinegar
Salt and pepper to taste
Tarragon (teaspoon-ish)
Peel and roast some beets, multicolored if you have them. Cut them into cubes, do the same with the blue cheese (or crumble it), and put them both in a bowl with the walnuts.
Whisk together the vinaigrette ingredients (4 parts oil to 1 part vinegar, more or less) and pour over the beet mixture. Gently stir until combined.
Whatll it take to get a man to try it?
(If you batter it and fry it
You still wouldnt try it.
If youre wearing just the right outfit )