SPRING
Next Year: Cupcakes
Wednesday, March 28, 2007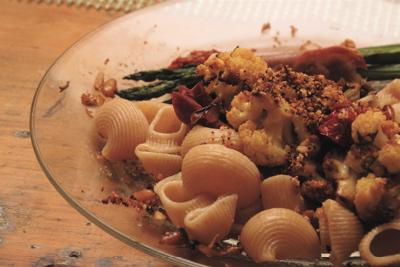 To find out about the book I'm writing for Algonquin Books, go here.

If you'd like to receive (infrequent and very short) e-mails when I have pieces on npr.org, sign up here.

New post up every Wednesday. Thanks for stopping by.
Back when 11-year-old E was little, Id spend absurd (embarrassing?) amounts of time working out the details of his birthday parties: how to turn our TV room into a bat cave, figuring out how to bake a ladybug cake once, at another moms request, I even made a strawberry cake for E's friend (and then, when we got to the party: I want chocolate. Boy, was that mom embarrassed). I obviously had a little too much time on my hands that year. (Not a problem these days.)
Last year when I turned 40, I decided it was
my turn for a party
. I had so much fun that I vowed to make it an annual tradition (albeit on a much smaller scale). So last week when my special, special day rolled around once again, I invited Ruth, Robin and Janet over for dinner, along with their families.
I met all three of them 12 years ago: Ruth and Robin during a (useless, annoying) birthing class, while I picked Janet up at a postpartum exercise class. (Postpartum change your babys diaper class would have been more accurate, because once you did that, which was a given, the class was pretty much over.) While there are lots of other people I would have liked to invite, we only have so much space in the house, and these are the women who got me through those early years of motherhood (it was touch and go there for a while).
The theme of my party was make-your-own sundaes (E and P decided this democratically, although its true that I didnt have a vote), and once Id finished setting it all up, I sighed because I knew the time had come to call the kids in from playing. (But we were all so
happy
when the kids were outside) Thats when Ruth boldly suggested we leave them there for just a few minutes longer and
mon dieu
serve ourselves first. At first I balked, but soon enough I saw the wisdom of her thinking. Its been 11 long years since any of us have done pretty much anything for ourselves first; breaking this old, bad habit with four kinds of ice cream and a table full of toppings seemed like a pretty good way to start. (Of course the kids sniffed us out within seconds how, I ask you?)
Id insisted I didnt want gifts, but when Janet and Ruth handed over chocolate dulce de leche, toasted pumpkin oil, blood orange curd, and pink sparking wine, I thought, oh,
okay.
Then Ruth and her family sang me a beautiful version of Happy Birthday, and even though it had harmonies, I loved it.
It was all fun, but I think my favorite part of the night was when Robins daughter, the lovely A, played the haunting Ashokan Farewell on her violin (Ashokan Farewell to 40, Janet said). Even Roxy the dog, whod been fussing the whole night, grew quiet then. Maybe it was the tune, or maybe it was the wine, but as I watched A play, I saw her transform into the woman shes fast becoming, and I thought, God, it all goes by fast.
(Except, of course, when it doesnt.)
Pine Nut Pasta Cavalfiore
Moosewood Restaurant New Classics
This was one of my birthday dinners (in this house, birthdays can go on for a week or longer):
1/3 cup chopped sun-dried tomtatoes (not packed in oil)
tsp saffron (we used turmeric)
cup boiling water
3 tablespoons olive oil
2 cups chopped onions
3 garlic cloves, minced or pressed
teaspoon red pepper flakes
8 cups bite-sized cauliflower florets
teaspoon salt
cup toasted pine nuts (toast in single layer on unoiled baking sheet at 350 degrees for 3 to 5 minutes, until golden brown)
1 tablespoon fresh lemon juice
2 tablespoons chopped fresh parsley
12 ounces orecchiette, penne or other chunky pasta
1 cup grated Parmesan (or, my preference, 1 cup fine bread crumbs sauted until crisp in 3 tablespoons olive oil)
Serves 4 to 6
Place the sun-dried tomatoes and saffron (if youre using turmeric just skip this step and add it in later) in a bowl and cover with the boiling water. Set aside. Bring a large, covered pot of salted water to a boil for the pasta.
Meanwhile, warm the oil in a large pot. Add the onions, garlic and red pepper flakes and saut over medium-low heat for 10 minutes, until the onions are softened and lightly browned.
Add the cauliflower and salt and saut for a couple minutes. Add the sun-dried tomatoes, saffron or turmeric and their soaking liquid. Cover and continue to cook over low heat, stirring occasionally, until the cauliflower is just tender.
(Or you can do what we did and toss the cauliflower with olive oil and roast it in the oven at 400 degrees until caramelized, or about 45 minutes; then add it into the mixture on the stove.) Remove from heat and add the pine nuts, lemon juice and parsley.
Cook the pasta until done, drain it and mix with the stuff on the stove. Mix in (or top with) the bread crumbs.
(Note: The recipe also called for 1/3 cup currants, to be soaked along with the sun-dried tomatoes, but we had to just say no to currants.)